Product was successfully added to your shopping cart.
Product was successfully added to your shopping cart.
AT&T Syn248 Small Business Phone System
The AT&T Syn248 phone system consists of a Syn248 analog gateway and Syn248 desk phones. Each Syn248 gateway will connect you to up to 4 PSTN lines using FXO ports. You can use 1 or 2 Syn248 gateways for your business, meaning that your phone system can have up to 8 analog phone lines connecting you to your phone company. You can connect up to 24 Syn248 desk phones to your Syn248 gateway using a 24 port switch. Regardless of how many Syn248 phones you have connected to your system, you are limited to as many concurrent outside calls as PSTN lines you have connected to your system. So if you have 1 gateway with 4 PSTN lines, you can make up to 4 outside calls concurrently, however internal calls are unlimited.
The Syn248 small business phone system, by AT&T, is perfect for small businesses looking to replace legacy phone systems or key systems with an inexpensive, more feature-rich phone system. The Syn248 uses your existing analog phone lines to connect outside the company, and your LAN to communicate inside the company. The Syn248 offers small companies the professional sound and presentation that is usually reserved for larger enterprises. The Syn248 offers up to 4 auto-attendant menus, a dial-by-name menu, and an option for both day and night/weekend answer modes.
It is important to know that the Syn248 is a proprietary system. The Syn248 analog gateway holds the PBX software. The Syn248 will ONLY work with Syn248 desk phones. They will not work with other branded phones or other models of AT&T or Synapse desk phones.
Why buy AT&T Syn248?
AT&T Syn248 an excellent choice because:
Reduced Cost, increased flexibility: Less expensive start up costs than a full VoIP Solution. More flexibility than a full analog solution.
Large, easy to learn and use desk phones
Easy administration allows for in-house phone administration
Flexible: Can have up to 24 handsets on a system. Can stack up to 8 PSTN lines
Offers large business features at small business price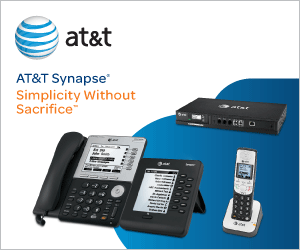 There are no products matching the selection.