First Look: Grandstream GXV3674_HD_VF
Grandstream announced today the release of their new outdoor, day/night IP camera: the Grandstream GXV3674_HD_VF.
What is it?
A few years ago Grandstream began their surveillance line card with a few indoor cameras with no optical zoom and daytime use only. Now Grandstream has expanded their selection of IP Surveillance products to choose from, which is excellent, especially if you already have a Grandstream VoIP system. The latest of their IP surveillance products is the new Grandstream GXV3674_HD_VF outdoor day/night camera.
The GXV3674_HD_VF has 2-way audio and is SIP compatible, meaning if you have a GXV3175 or a GXV3140, you can tune in to your surveillance footage directly from your deskphone (you can also view from your mobile device; Grandstream is flexible like that). The free downloadable surveillance software, Gsurf, is pretty user friendly and identifies the camera automatically, giving you a plug-and-play effect.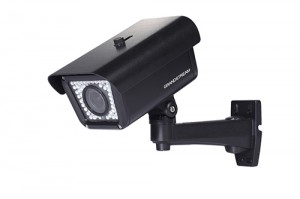 What's great about this camera is it's vari-focal lens for outdoor use. While this camera doesn't have optical zoom, it gives you the ability to set your camera and walk away, not having to worry about adjusting the focus or having it get knocked out of balance by wind or such. They're a big time and hassle saver, so if you're looking for an easily maintainable outdoor camera, the Grandstream GXV3974_HD_VF might be a great one to start with.
Who is it for?
Based upon my own experience handling Grandstream cameras, they're for everyone. This particular new piece is going to be perfect for outdoor situations where it's IP66-rated casing can stand up to a little bit of dust blowing around and ran hitting it lightly (such as under an eave). With both day and night functionality and a vari-focal lens, the GXV3674_HD is going to cover most situations where identification and clarity is needed. Grandstream IP cameras include video motion detection, notification alarms, pre- and post-alarm buffering, and several other basic features, so it's perfect for a small to medium sized business looking to up their physical security around the premise.
Pricing
The Grandstream GXV3674_HD_VF is $369.