First Look: Meet Snom's M-KLE Series DECT Phone Handsets and Desksets!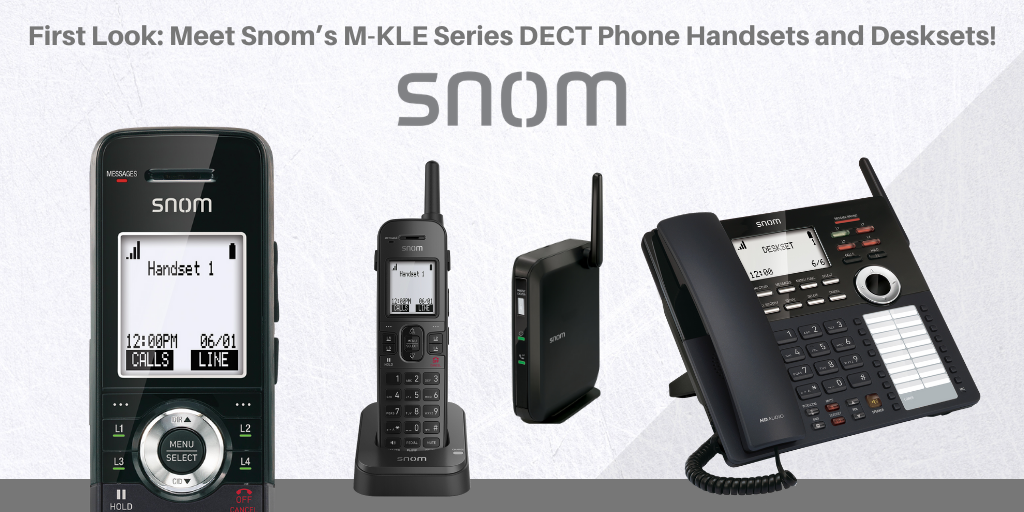 Are you still searching for an intuitive, easy-to-deploy DECT phone solution for your team? Look no further! Snom's M-KLE series DECT phones are the perfect solution you've been looking for.
Designed for an active, on-the-go workplace, the M-KLE series DECT phones come with easy calling features and deployment options.  This series includes the M10 and M10R DECT handsets, M100 base station, and M18 DECT deskset.
Watch our Snom webinar to learn how businesses can utilize this solution for their ever-changing workplace:
Let's take a closer look:
Snom M10 & M10R DECT Handsets
The Snom M10 is a 4-line DECT handset designed for small businesses who need to quickly manage their call routing. What's cool about this unit? It supports key system emulation, a features that allows users to handle shared line appearances locally without the need of a service provider! Answer, hold and resume calls on any phone with just one touch of a button.
Not to mention that the M10 DECT phone offers an extended range of up to 500 feet, HD voice and more.
The Snom M10R adds a rugged design. With a locking battery door, water resistant and shock absorption, this unit is built to last a long long time!

What if I want the look of a deskphone? Not a problem! Check out Snom's M18 DECT deskset that has the familiar look of a deskphone, but gives you the convenience of a handset. This unit provides 4-line call handing and 3-way local conference. You will need the M100 base station to run the M18 deskset. Just like the M10 and M10R, the M18 also supports key system emulation , DECT 6.0, HD voice and more features!
Our customers love that the M18 has a battery (7 hrs. talk time) in addition to AC power. It allows them to move the deskset where needed without wires!
Why Snom M-KLE DECT Phone Series?
Key system emulation: Easily handle calls with shared line appearances/shared call appearance (SCA1 ) across all cordless phones without the need for SCA support from your provider.
Easy deployment: add up to a combination of 10 cordless handsets or cordless desksets
Improved call handling: It's easy to see incoming calls, hold calls, and pick up a call on hold from the handset with a simple press of a button
Extended range: DECT 6.0 technology allows up to 500 feet of range
Are you ready to learn more? Join our upcoming webinar on January 14th to learn more or simply raise your phone and give us a shout at 1-800-398-8647!