First Look: MOBOTIX AllroundDual M15 Thermal
Known for their long lasting, robust, and unique IP cameras, MOBOTIX has been one of the leaders in the IP surveillance market for years. Recently MOBOTIX standardized all their models to 5 MP from 3 MP and their latest leading update has been to their AllroundDual M15, which they utilized one of the dual lens modules with a thermal lens.

What is it?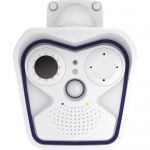 The new MOBOTIX MX-M15D-Thermal is an AllroundDual IP Camera perfect for situations that require a decentralized system in an environment that usually has poor visibility. A thermal camera is preferable when you need to know what is around the perimeter but visibility conditions make it hard to capture clear images on camera. The M15D-Thermal was created to detect hotter than average body parts or technical devices/overheated machines in complete darkness, through smoke, smog, or even thin plastic screens (not glass; thermal images cannot be detected through glass, so do plan accordingly).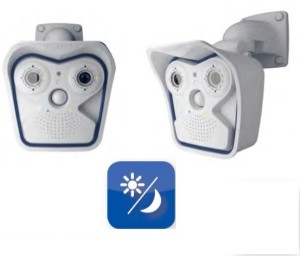 MOBOTIX MX-M15D-Thermal
There are three models to choose from differing in lens ranges:
MX-M15D-Thermal-L43: 43° thermal sensor
MX-M15D-Thermal-L65: 25° thermal sensor
MX-M15D-Thermal-L135: 17° thermal sensor
All three models feature:
Microphone and speaker integrated, lip-synchronous audio, two-way speaker, audio recording
Continuous digital 8x Zoom + Pan/Tilt
Thermal image size 336×252 pixel
Weatherproof IP66
PoE (IEEE 802.3af/t) Class 3
VideoMotion, MxActivitySensor, external signals, temperature sensor, PIR, microphone, shock detector, notification via eMail, FTP, telephony (VoIP, SIP), visual/acoustics alarm, pre- and post-alarm images
Who is it for?
The MX-M15D-Thermal is an ideal solution for docks, dispatches, and high-security or restricted areas where there may be limited visibility. The M15D-Thermal works when you need to know whether or not someone is moving in the dark, monitor for machinery over-heating, or detect ships on the horizon through hazy conditions. Trees, bushes, waves, and other natural barriers that disrupt visibility don't trouble the M15D-thermal: you can block out "cold" objects whose movement causes disruption.
Unlike other thermal cameras, MOBOTIX has created the AllroundDual M15 thermal to also allow dual lenses pairing a thermal lens with a 5MP day or night sensor module lens. This ability for both thermal imaging and traditional imaging allows you to identify and monitor activities. If no traditional lens is used, the extra module space has a dummy lens in it to keep the M15D-Thermal watertight up to IP66-rated standards. For a no-nonsense approach to surveillance, a thermal IP opens all new options to choose from.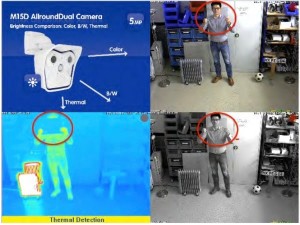 Pricing
MX-M15D-Thermal-L43: $6648.00 MSRP
MX-M15D-Thermal-L65: $6248.00 MSRP
MX-M15D-Thermal-L135: $6248.00 MSRP
Availability
The MX-M15D-Thermal IP Camera is expect to begin shipping in late Q1.