Grandstream IP Phones and ATAs are Now Interoperable with BroadSoft's Business Platform
Grandstream and BroadSoft customers are in luck! Grandstream Networks and BroadSoft, a global market share leader for cloud business communications, announced today that they have completed BroadSoft's BroadWorks® call control platform interoperability testing for Grandstream's new products including GXP1700 series Mid-Range IP phones and HT800 series Analog Telephone Adapters (ATAs).
Service providers and customers using BroadSoft's business platform can now deploy Grandstream's GXP1700 IP phones. The HT800 series ATAs can also be deployed to integrate analog phones with IP network.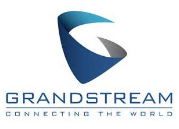 This successful interoperability testing unlocks all Grandstream's current IP phones and ATAs to be interoperable with the BroadSoft Business Software-as-a-service (SaSS). The validated IP phones include the GXP1600 series, GXP1700 series, GXP2100 series, GXV series, DECT Cordless IP Phones and more! We are excited to see how our customers will benefit from this great integration in the near future!
For additional information please call one of our experienced VoIP consultants at 800-305-1427.