How to Change the Wallpaper on the Yealink CP960
Note: This article has been updated on July 25th, 2018
In the past, I have written blogs about the importance of customizing your workplace. One of the best ways to do this is bringing in pictures from home, and even changing the wallpaper on your deskphone!
This process usually falls into the category of "basic" when dealing with most IP phones, and the same goes for the Yealink CP960. The only difference is this is a conference phone, and not like;y to be on your desk!
What I thought was cool is that even though this is a conference phone, and most likely to be used by several different people around the office, it is still fully customizable. Everything from the wallpaper to the ringtone to so much more!
For this blog, we will table how to change the wallpaper because that is a pretty popular thing when it comes to the customization of your phone. The CP960 will give you a list of preloaded wallpapers to choose from. If you would like to upload your own image, you will have to do that from the phone's Web GUI, so it might be best to contact your Systems Administrator for help on that.
How to Change the Wallpaper on the Yealink CP960
One thing that I will tell you is that the phone screen size is 5 inches or 720×1280. So when choosing a customer phone for this phone, make sure it will fit! In any case, if you want to keep it simple and use one of the preloaded images, then just follow these easy steps:
Tap Settings from the home screen
Tap Display from the Basic block
Tap Wallpaper
The touch screen will then display the current-used wallpaper with alternative built-in backgrounds on the bottom of the touch screen
Select a desired wallpaper from the built-in wallpaper list
Tap Set wallpaper
How to upload your own wallpaper on the Yealink CP960?
If you'd like to use your own image, you will have to upload your image from the back end. Read the "Customizing Your Phone" section in this guide to learn more: Yealink CP960 User Guide
In your Upload Wallpaper field, click Browse to find the image you want to use from your computer
Click Upload to start uploading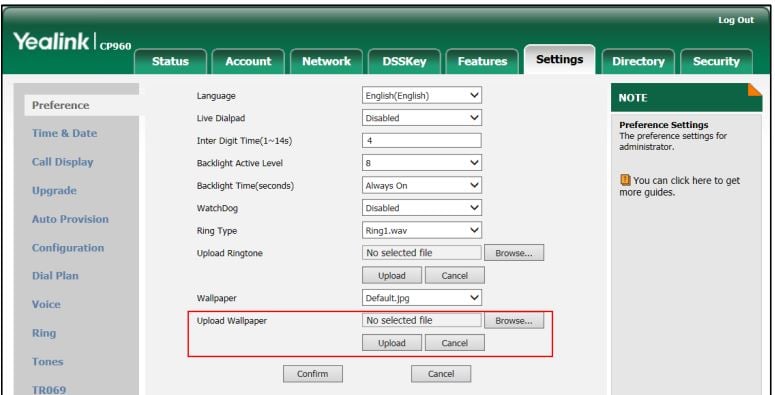 And that's it! With something this simple, why not a little variety to your conference room? Just get ready for it to be a different background each time you use your Yealink CP960!
Do you have a Yealink CP960 in your conference room? If not, what conference phone do you use? We want to know!