How to Set Up Call Pickup on Digium's D-Series IP Phones
Call Pickup is a feature that allows you to answer someone else's call. This comes in handy in workgroup settings like customer service and/or call centers where you have high call volume to handle!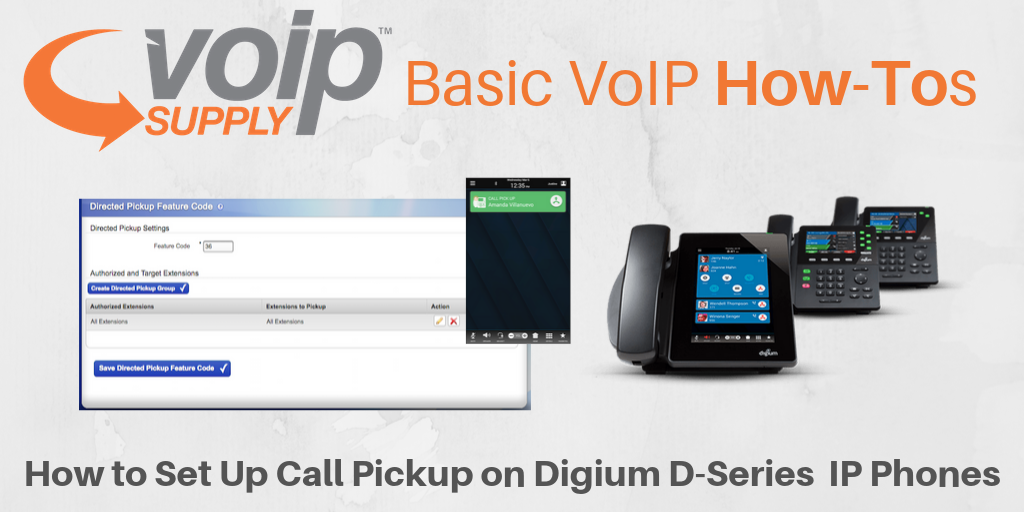 Setting up the Call Pickup feature is fairly easy on Digium's D-Series and there are many customization options to make your communication as smooth as possible. Let us walk you through the steps:
How to Set Up Call Pickup on Digium's D-Series IP Phones
To set up Call Pickup, you must log in as a Switchvox administrator and have the permission to manage extensions. 
Create a Feature Code extension of the type Directed Pickup:


Setup > Manage: Create Extension


Set a feature code and use

Create Directed Pickup Group

to specify the authorized extensions (who can pick up others' calls) and the target extensions (whose calls can be picked up by the authorized extensions). Click

Save Directed Pickup Feature Code

.




 

Set up the authorized SIP Phone extensions:




You can make this change in each extension, or use the Bulk Modify tool.

Digium Phone Settings: Contact Settings: Number of Rapid Dial Subscriptions


Ensure that items #1-5 (depending on phone model) are subscribed to. Meaning set this number high enough to serve your call pickup targets. Subscribing to the contact is how the phone knows that the target-contact has an incoming call.

Optional settings:

Digium Phone Settings: Contact Settings: Directed Pickup Ringtone


Select a ringtone if you want an authorized phone to ring when a target has an incoming call. By default, the authorized phone does not ring. 
NOTE: in the D80 model phone firmware version 1.9.5, the phone will need to be restarted after setting Call Pickup.
Have you successfully set up the Call Pickup function? You can even customize each extension further by setting up their rapid dial list and put Call Pickup targets in the top 5 items. Learn more details here! 
Don't forget to share your experience with us in the comment box below!