How to Upgrade to the Yealink Teams Edition from SFB Edition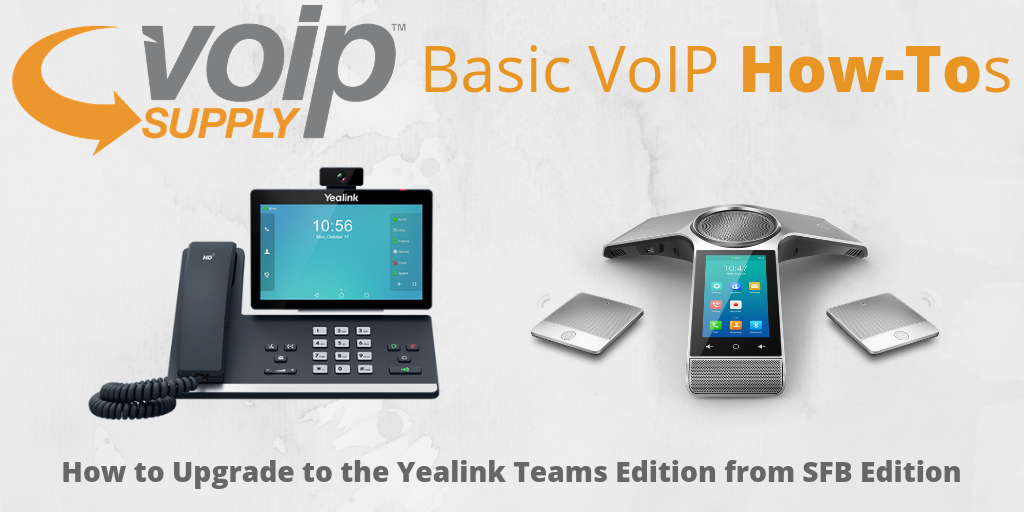 As Skype for Business rolls into Microsoft Teams, more features and tools are unlocked for Teams users. We received many inquiries from our customers regarding how to utilize Yealink's Teams edition devices. Therefore, today, we are going to show you how to upgrade your existing Yealink SFB phones into the Teams edition.
The whole upgrading process can be separated into two main steps: Upload the Teams firmware and Register & Upload the license. Let's get started:
Upload your Microsoft Teams Firmware
Download the Microsoft Teams firmware file:

 On the device, go to Status -> General to find out the IP address of the device.

Type the IP address into a web browser to go to the web interface of the device, and log in with the default Administrator information:

Username: admin

Password: admin

Go to Settings -> Upgrade -> Select and Upgrade Firmware,.

Click "Upload" to upload the MS Teams firmware, a message will pop-up, click OK.

If the firmware is upgraded from Skype for Business, the license should be already installed.
Register for an account and Upload the License
Login to Yealink License Management Platform.

Go to License Management -> My application, click "+New Temporary License" or "New Permanent License" based on your needs. (Note: So far, end users could only apply for temporary licenses up to 180 days. If you need to apply for permanent licenses please contact your distributor or phone provider).

Fill out and submit the application form.
Version: select Microsoft Teams

MAC: IP phone: Setting -> About -> MAC OR Web interface: Status -> Network Common -> MAC Address.

Model: You can find it at the bottom of the device.
4. When the application is approved, login to Yealink License Management Platform License Management -> My application, scroll all the way to the right, under Action, download the license.

Go to web interface Security -> License to upload the license.
The device will reboot after the license is imported. That's it! Your upgrade is completed!
Do you have more questions? Learn more here: http://support.yealink.com/faq/faqInfo?id=785