IP Camera Project – Mix of Fixed and Dome IP Cameras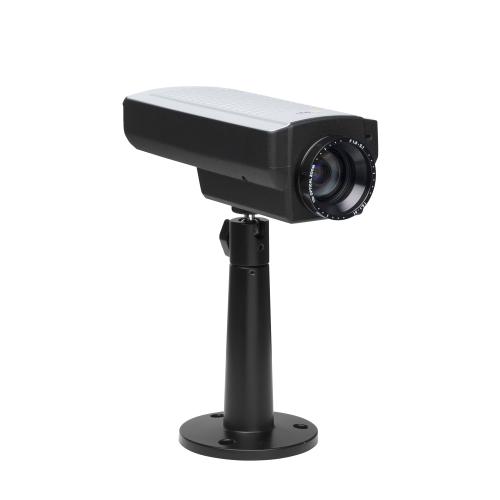 Sometimes a security solution calls for only only type of IP camera such as this high school application that only required Dome IP Cameras.  But in a lot of other applications security needs differ from location to location within a single complex.
When the city of Ningbo in the Zhejiang province of China built a tennis center with the intent to hold international matches and the corresponding daily exercises and daily events, they turned to Axis IP Cameras for their solution.
The Ningbo Tennis Center includes a central court, indoor tennis hall and an outdoor tennis court.  It is a large-scale stadium where, as you can imagine, security is a paramount issue.
IP Based Intelligent Video Surveillance System
With the safety and security of even patrons and participants a top concern at the sprawling Ningbo Tennis Center, management saw fit to build an iIP-based, digital and intelligent video surveillance system incorporating IP network technology, HDTV technology and advanced H.264 encoding technology.
The flexibility and scalability of IP based surveillance systems cannot be matched by analog CCTV while the advanced features of IP cameras offer ease of use and provide clearer image information of a monitored area.
Solution
From the Axis case study "Video surveillance goes to the center court":
Axis network cameras were chosen to build the intelligent security system. The system works 24/7, so in case of emergencies, like power failure, fire or criminal incidents, the response decision can be made quickly to ensure the daily operation and security of Ningbo Tennis Center, and external security guard organizations can be contacted directly to implement a response. The system monitors the stadium in real-time, including entrances and exits, audience congestion, site status, any person requiring first aid, or any suspicious persons or objects, even outdoors or at night. High-performance network cameras including AXIS Q1755, AXIS 216FD-V, AXIS 221 and AXIS 233D are used in critical surveillance locations. In addition, AXIS 241 Video Encoders are also used to provide the customer with an IP-based high-performance surveillance solution.
Result
The Axis network video surveillance system is integrated closely with the computer network system, information communication system and event support system, creating a true digital stadium. A complete service system is built into the center, so that during events, the audience can experience digital and IT features. The system features advanced technical capabilities, good application results, strong upgrading capacity, easy and convenient operation and control, and a secure and stable operation.
IP Cameras Used
A mix of Fixed, Dome, HDTV, Indoor/Outdoor, and Day/Night IP cameras plus a video server were used for that security system because each type of camera has different capabilities that are able to fit the unique mounting, lighting, and image requirements of a particular security area.  For more information on the exact models used, please follow these links:
Axis 216FD-V Vandal Resistant Dome IP Camera
Axis 221 Day/Night Indoor/Outdoor Fixed IP Camera
 If you have any questions on how IP cameras such as these can help improve your surveillance system, please give us a call at 866-885-4853.