It's No Small Feat Picking the Right VoIP Phone for Your Small Business (Event Ended)

Small businesses have the same pressing communication needs as any other business.
But with so many phone options to choose from, where do you start?
Grandstream is here to help with their GXP1600 series of VoIP phones.
And there's no better way to learn about this new generation of small business VoIP phones than registering for our upcoming webinar.

Webinar Details
What: Grandstream Small Business GXP 1600 Series VoIP Phones
When: July 23, 2015 (Thursday)
Time: 2:00 PM EST
Where: Your desktop! Register here.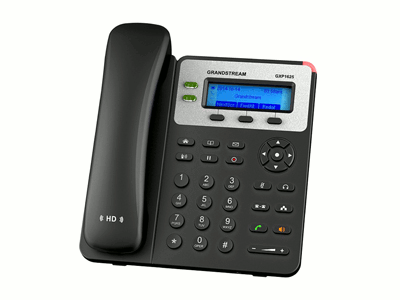 What's New and Improved with the GXP1600 Series?
The Grandstream GXP1600 VoIP Phones series may only have 1 or 2-lines but they're all business.
Enhanced features include:
Faster Boot-Up Time
Less Noise with Advanced Noise Reduction for Headsets
Sounds Better with Improved Acoustics and Echo Cancellation
Energy Savings with Reduced Power Compution (up to 56%)
Dedicated Buttons for Easy Call Recording and Intercom/Paging
Supports Major SIP Platforms
Will GXP1600's work with my platform?
You bet.
Grandstream phones support all major SIP Platforms incluing:
BroadSoft
Elastix
Asterisk
Genesys
Metaswitch Networks