March New VoIP Hardware Roundup: HT818 Gateway, GDS3705 Door Phone, 2900e SBC
Last month, we had lots of great new releases such as Digium's A-series IP phones and Grandstream's GVC3200 video conferencing unit. This month, we are seeing more exciting new VoIP hardware that will take your unified communication system to a higher level. Let's check it out!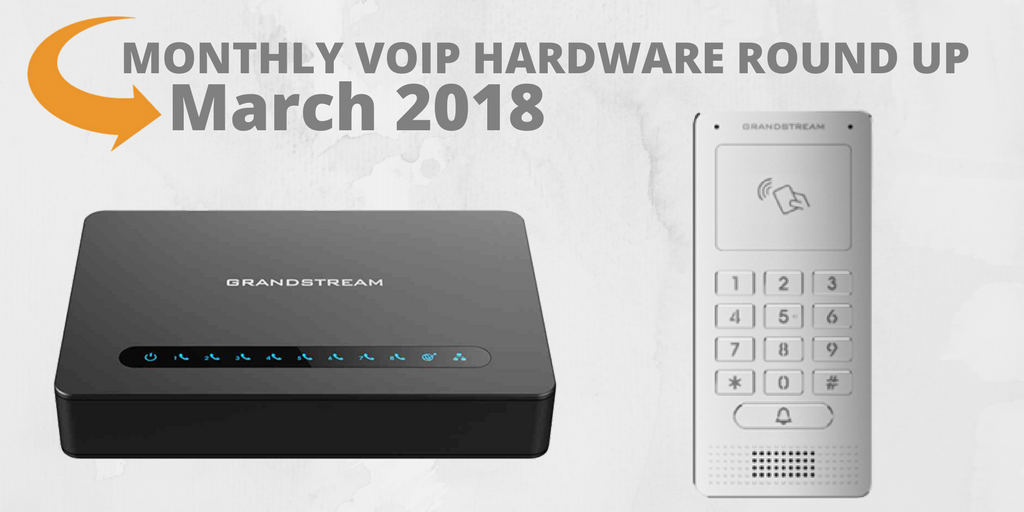 The HT818 is an 8-port FXS gateway that facilitates the conversion of analog lines to VoIP.  With an integrated Gigabit NAT Router and strong encryption, the HT818 is a reliable and safe gateway/router for VoIP deployments. If you are looking for a quick way to add analog ports to your SIP-based phone system, the HT818 can be a perfect fit!
Key Features:
8 FXS ports

Strong AES encryption

Automated & secure provisioning options using TR069

3-way voice conferencing per port

Wideband HD codec

Supports T.38 Fax for reliable Fax-over-IP

Supports dual Gigabit network ports
The GDS3705 is an entry-control VoIP system that provides a secure and rugged touchless entry system. This device comes with a built-in RFID card reader and can be easily managed through the IP network. The built-in microphone can pick up noises/voices up to 1.5 miles away!
Key Features:
Echo cancellation

Managed through the IP Network giving users the ability to easily check alarms, add/remove users, change setting, etc.

Rated IP66 for protection against the elements and rated IK10 for protection from vandalism
The 2900e PoE is ideally suited for Hosted PBX applications that require POE functionality to power IP endpoints. This solution enables service providers to easily support locations with less than 12 phones with a single device.
Simply combine the 2900e with the EdgeView Service Control Center to remotely monitor and manage your VoIP phone system anywhere anytime!
Key Benefits:
Single device solution makes installations easier and reduces the number of SKUs to manage

Single user interface for configuration of both SCB and PoE functions

Fully managed design allowing for VLANs and advanced management

Type 1 PoE device, providing a full 15.4 watts per port

Dual 1Gb/s Ethernet or optical fiber connections backing today's bandwidth speeds