Product was successfully added to your shopping cart.
Product was successfully added to your shopping cart.
We are an authorized Digium Distributor! Get the best pricing and support from VoIP Supply!
About Digium A-Series Asterisk Phones
NOTE: The Digium A20 and A22 from the Asterisk Series have been discontinued by the manufacturer. The Digium A30 is still available for purchase.
Digium's A-Series is a line of affordable desk phones for Asterisk-based systems. Designed with high-quality components, the A-Series price point starts as low as US $59 and each model includes a full-color display, HD Voice, and multi-line functionality. From entry-level to executive-level, the A-Series has the right desk phone that meets your requirements. Check out the chart below for a quick glance of the whole series: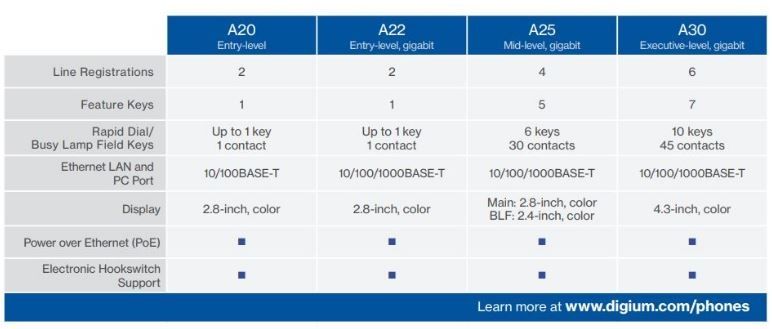 Why buy Digium A-Series Phones?
From the creator, sponsor, and maintainer of the Asterisk project
Designed for budget-minded users
Full-color display and HD Voice
Up to 6 line registrations
SKU: 02-124599

Digium's A30 IP Phone is for the executive user who knows how to save on the bottom line. This model supports 6 lines and has a beautiful full-color LCD display.