New Linksys WIP310 Wireless IP Phone: VoIPSupply Exclusive
Linksys has a new, improved WiFi SIP Phone set to arrive shortly, and you'll find it at VoIPSupply first!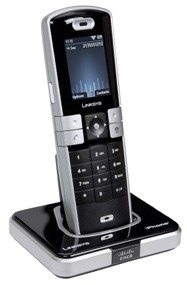 The WIP310 supports 802.11b/g and SIP, and offers a hi-res color LCD display. The WIP310 is service provider friendly and supports mass provisioning. Linksys promises a user-friendly configuration interface and easy network setup using WiFi Protected Setup (WPS).
From the Linksys website:
WPS is a fast, secure way of connecting the WIP310 Wireless-G IP Phone with any standards based Wireless-G broadband router. Just press the WPS button and your connection will automatically be configured and secured with a custom SSID using powerful WPA (Wi-Fi Protected Access) encryption. Within seconds you have successfully set up a secure connection.

The WIP310 utilizes the same trusted and proven Linksys provisioning capabilities presently being used to deploy other popular Linksys Voice Products on a massive scale. Customers purchasing VoIP service from the service provider and using the WIP310 can be quickly provisioned via a WiFi connection where their configuration profile is received securely right to the handset using TFTP, HTTP, or HTTPS.

The included telephone base accentuates the appealing, modern design of the handset and provides hands-free convenience when using the built-in speakerphone. The WIP310 supports many features such as caller ID, call forwarding, call transfer, 3-way conferencing and can store 200 records in its phonebook.
Nice to see that Linksys has incorporated a base / charging station. WiFi SIP phones in general have traditionally suffered from anemic battery life. These have not quite landed in our distribution center as I write this, but let's hope this 2nd generation Linksys WiFi phone offers 2nd generation battery performance and improved overall usability.