Patton's CL1101 PoE Extender Earns 2017 Product of the Year!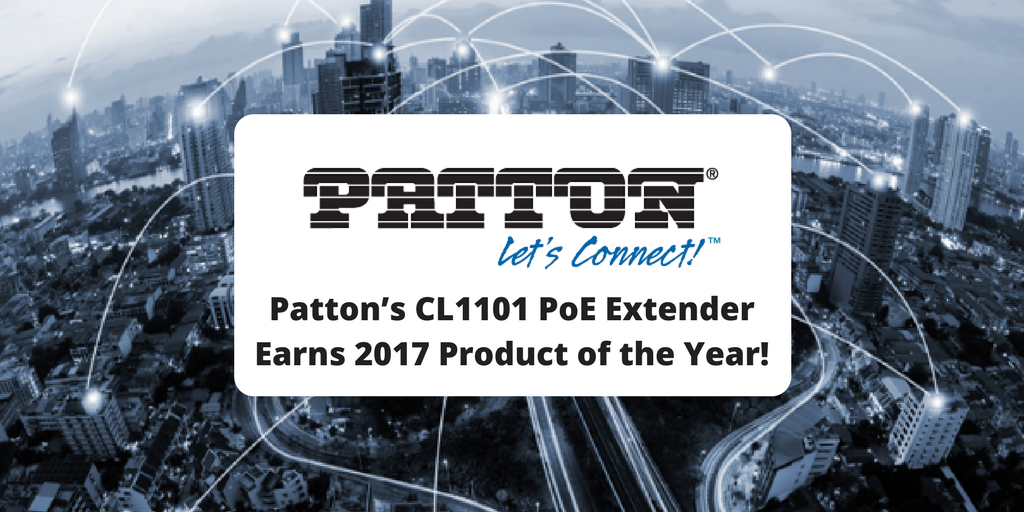 Feb 21, 2018 – Patton Electronics, a cloud and IoT enabling solution manufacturer, announced that their CopperLink 1101 Power over Ethernet Extender has earned the 2017 Product of the Year Award from Communications Solutions magazine.
The PoE Extender is designed to allow users to reuse circuits previously meant for traditional non-IP applications such as alarms and analog phones, and instantaneously install PoE compliant devices like IP Phones with no added overhead costs. Click links below to learn more:

We are honored to accept this award," said Johnnie Grant III, Product Line Manager, Patton. "The distance limitations of Ethernet and the challenges of delivering electrical power often make it too expensive or technically impossible for system designers to position endpoint devices where they are needed. Patton technology changes all that."
"The CL1101 PoE Extender has been a great addition to our catalog and a fantastic help to our customers who are looking for Ethernet solutions that don't involve construction. The ease of use and Patton quality make it a hit!" – Erin Feeney, Product Marketing Specialist at VoIP Supply
Congratulations to Patton on this amazing award for their innovative product! We look forward to seeing more customers benefit from Patton products.