PBXact and PBXact Cloud – the benefits of selling both (Webinar Recap)
Are you interested in selling Sangoma products? If yes, you're in luck! Sangoma's reseller webinar series this month covers the key selling points of Sangoma's PBXact and PBXact Cloud. Don't miss out on this insightful webinar recap!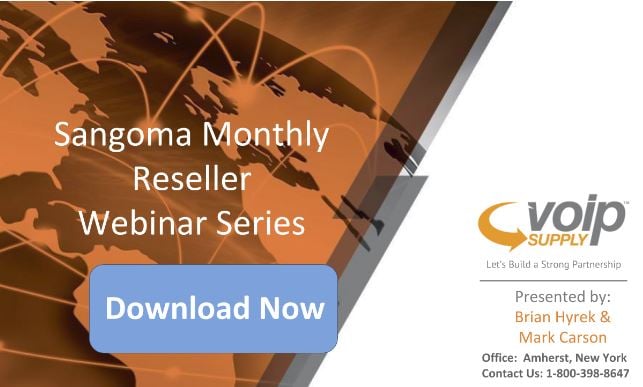 Download the presentation slides here. The webinar recording will be available shortly. Stay tuned!
Sangoma Reseller Webinar Q&A
Q: Is the interface the same for PBXact on-premise as it is for the PBXact Cloud?
A: Yes, exactly the same.
Q: can SIPStation pool across multiple locations for a customer?
You can set up multiple locations, but each one has to have its own registration. You can't buy one trunk and register them all to one trunk. All Minutes pool.
Q: What are the benefits to buy Sangoma products through VoIP Supply
A: One benefit being that you get a dedicated rep to assist you and your customers. Plus, you will receive exclusive reseller discounts on all of the brands and products VoIP Supply carries. And don't forget about the programs VoIP Supply offers:
Rental program – Device as a Service (DaaS) gives your customers the widest variety of VoIP products for a low monthly payment
Refresh & Reclaim – offering certified reconditioned devices at a fraction of the cost plus offering an outlet for selling off used and excess VoIP equipment
Provisioning – get your VoIP hardware to deliver to your customer and ready to go right out of the box