First Look: Polycom VVX 500 Business Media Phone Review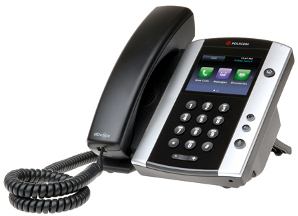 Unified Communications (UC) touts universal access across all mediums so why not have a little interface unity across those devices?
The Polycom VVX 500 is a sleek new HD voice VoIP phone offering a familiar touch screen experience.  A touch screen experience that's so familiar I'm confident that even my iPad toting dad can use this phone with little to no training.
Time Saver
Time saving is Polycom's goal for the VVX 500 through a small learning curve, desktop and mobile device integration, and fingertip access to your information.  The VVX 500's 3.5 inch touch screen provides a quick look at your synced calendar, contacts, and streaming media (news, sports, weather, stocks) to give you a jump on your day while your computer boots up.
Performance
Billed as a performance business media phone, the VVX 500 targets busy workers that need a phone to keep up with their multi-tasking.  Or, this phone is for anyone who really hates lag time and thinks 15 seconds for a video to load is an outrage.
The touchscreen's response time is super-fast and very intuitive whether you're entering data, scrolling through menus, or jumping from app to app.  Navigation is tuned to resemble smartphones.
Features & Functions
The VVX 500 is compatible with DECT, Wi-Fi, 3G/4G networks, and Bluetooth for wireless audio expansions including electronic hook switch (EHS) with select headsets.   When standard forms of communication aren't enough, the ultimate remote collaboration solution is possible with video conferencing.
An optional USB camera will be available that simply clips onto the phone console above the touch screen. Granted the small screen won't give you much range for video conferencing but, in a pinch this simple solution may be all you need to be productive in a small office setting.
The VVX 500 incorporates the Polycom Desktop Connector which is their fancy way of saying this phone connects to your PC allowing keyboard and mouse sharing.  This option works well when you're at your PC and using a wireless headset. Being able to manipulate the VVX 500 phone screen with your mouse or keyboard can speed up or simplify dialing or other phone interactions when you're in the middle of using other computer based programs.
Featuring HTML5 media playback, dual USB ports, built-in apps plus API for third-party applications; Polycom's VVX 500 is built for speed and performance while also being customizable, future proof, and expandable.
Until a better and more integrated solution comes along, desktop phones are still proving useful and at less than $250.00 the Polycom VVX 500 might be the most flexible and easy to use desktop phone we've seen.
What's in the box?
VVX 500 Console (7.5"W x 6"H x 7"D) 
Handset with cord 
LAN cable 
Built-in Power over Ethernet (PoE) – External Universal AC Adaptor is optional and not included. 
Quick Start Guide
1-year warranty
FAQ
How do you sync with calendar and contacts? Does the Polycom VVX 500 sync to Microsoft Outlook only or Google and OSX too?
Sync is for Microsoft Outlook only and you need to log on to your credentials on the unit to get the sync up.
How is the Polycom VVX 500 used with DECT, WiFi, 3G/4G networks?
The VVX 500 has two USB host ports and any accessories will be connected via a USB dongle for DECT, WiFi,3G/4G.
When will the optional USB camera be available and how much will it cost?
USB camera is planned by the middle of 2012. No cost determination for it at this time.
What video conferencing platform does the Polycom VVX 500 support?  Is a VVX 500 required on both sides of the video conversation or is it possible to use something like Facetime on an iPhone?
VVX 500 will be interoperable with Polycom's video collaboration tool, Polycom RealPresence Desktop, and integrate fully with the RealPresence platform when video conferencing capability is available via the optional USB camera.  The VVX 500 will have open SIP standards so with interoperability testing it can be possible to work with other SIP based clients.
Does Polycom Desktop Connector only support Windows or does it also support OSX, Linux, or HTML5?
Polycom Desktop Connector supports Windows only at this time.
Downloads