VoIP Q&A: Ruckus ZoneFlex T300 Coverage and Usage, Headsets for Grandstream GXV3275 IP Android Phone
Our tech support team here at VoIP Supply offers great pre- and post-sale support plus provisioning, consultations, and configuration and installation help.
We get a lot of VoIP hardware and software questions and realized that these solutions should be shared with everyone.
Here now are our top real questions and answers from this past week (from VoIP users just like you).

Q: What is the range of the Ruckus ZoneFlex T300 Outdoor Wireless Access Point? Does it come with software or do I need to purchase software separately? How many users can it support? Does the T300 support IPTV streams?
A:  The Ruckus ZoneFlex T300 Outdoor Wireless Access Point offers dual-band 802.11ac and is rated IP-67 for outdoor environments. The T300 is specifically designed for high traffic public venues such as airports, convention centers, plazas, malls, stadiums, and dense urban environments.
Let's take your questions one at a time.
T300 Range
According to Ruckus, the maximum distance of the Ruckus T300 is technically 25 km but, 10 km is more realistic. That kind of distance is can be achieved between two Ruckus access points with line of site and directional antennas.
In everyday applications, your maximum distance is determined by your uplink signal, not the access point downlink. A good rule of thumb for the Ruckus T300 is to plan on a distance of less than a football field for optimal coverage assuming moderate usage.
T300 Software
All Ruckus access points can run in standalone mode. But, you'll get a lot more functionality when you use the T300 with a Ruckus ZoneDirector Software Platform.
Ruckus ZoneDirectors are smart wireless LAN controllers with more features than your typical centrally managed system.
ZoneDirector Smart WLAN controllers use a highly-intuitive Web user interface to provide easy configuration and administration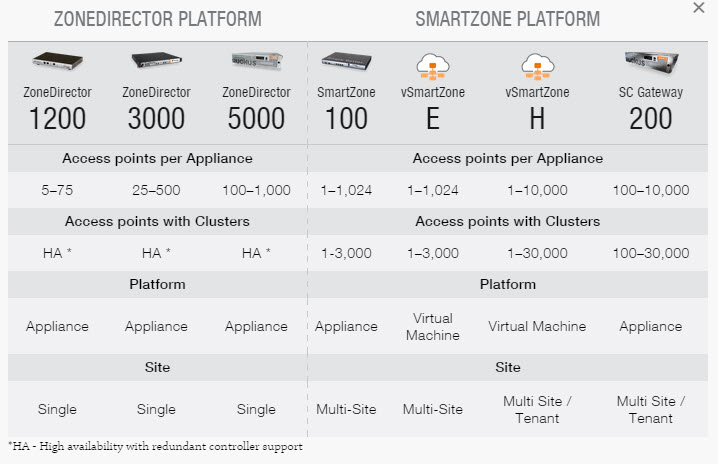 T300 Max Users
Maximum users for the T300 is rated at:
200 Encrypted
500 Unencrypted
T300 IPTV Support
Yes, the T300 does support IPTV with built in QoS when used with a Ruckus ZoneDirector
For more information, download the Ruckus ZoneFlex T300 Datasheet.

Q: For the Grandstream GXV3275 phone is it possible to use a USB headset like Logitech with it ?

A: The Grandstream GXV3275, a 6-line multimedia video phone with a 7″ color touch screen, includes dual USB ports.
However these USB ports are for storage and and transferring files to the GXV3275.
GXV3275 Headset Options
The GXV3275 supports:
Hands-free Bluetooth headsets

Electronic Hook Switch (EHS) with Plantronics Headsets
RJ9 Headsets
3.5mm Stereo Headsets with Microphone
For more information, check out the video below or download the Grandstream GXV3275 User Guide.
That's all for this week, stay tuned for next week's VoIP Q & A.