The GWN7600LR: Grandstream Adds New Outdoor, Long Range WiFi Access Point to its GWN Family!
After the release of GWN7600 WiFi Access Point (AP), GWN7610 Wireless AP, and the GWN7000 VPN Router, now Grandstream goes one step further to introduce the GWN7600LR AP to its GWN family.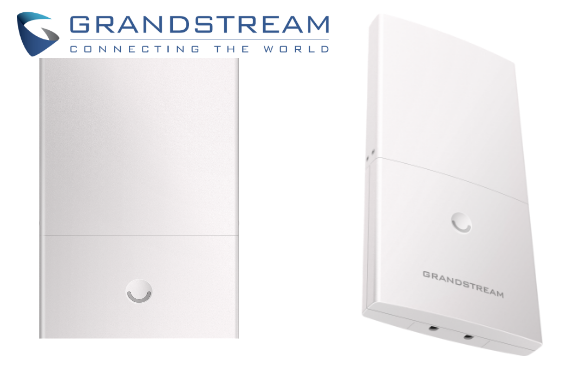 The GWN7600LR is a WiFi long range access point designed to provide extended coverage support and it is ideal for businesses looking to create an expandable WiFi solutions outdoor. It's always exciting to see new products. Let's check out some key features!
Waterproof Outdoor Solution
As the demand for an outdoor WiFi Access Point has been increasing, Grandstream created the GWN7600LR, a high-performance wireless access point that can be deployed outdoors with its weatherproof casing.
Long Range Coverage: Up to 275 meters!
The GWN7600LR also comes equipped with dual-band 2×2:2 MU-MIMO with beam-forming technology and a sophisticated antenna design for maximum network throughput and extended WiFi coverage range of up to 275 meters! This solution has the longest range coverage among all GWN Series APs.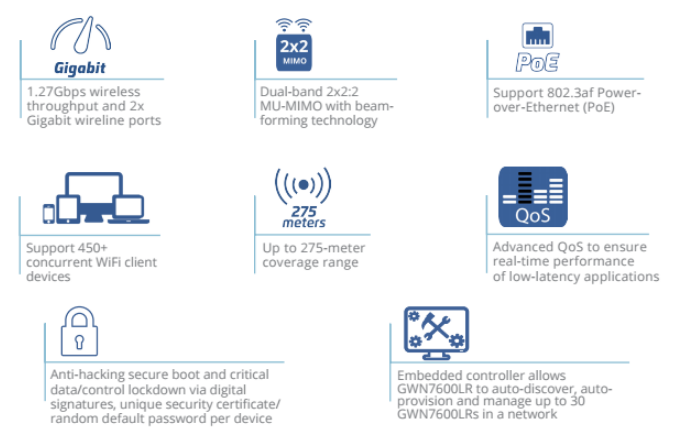 Embedded Controller
Like other GWN Series APs, the GWN7600LR has a controller-less distributed network management design and an embedded controller within the product's web user interface. This allows each access point to manage a network of up to 30 GWN76xx series APs independently without needing separate controller hardware/software and without a single point-of-failure.
More Features:
Up to 300-meter coverage range— ideal for outdoor use

1.27Gbps wireless throughput and 2x Gigabit wireline ports

Dual-band 2×2:2 MU-MIMO with beamforming technology

Support 802.3af and 802.3at Power-over-Ethernet (PoE/PoE+)

Controller-less network management, auto-discovery, auto provisioning

Offers simultaneous dual-band WiFi signals

Advanced WiFi security features
Download the GWN7600 LR Datasheet
Check out the comparison chart below to compare all three GWN Series Access Points side by side: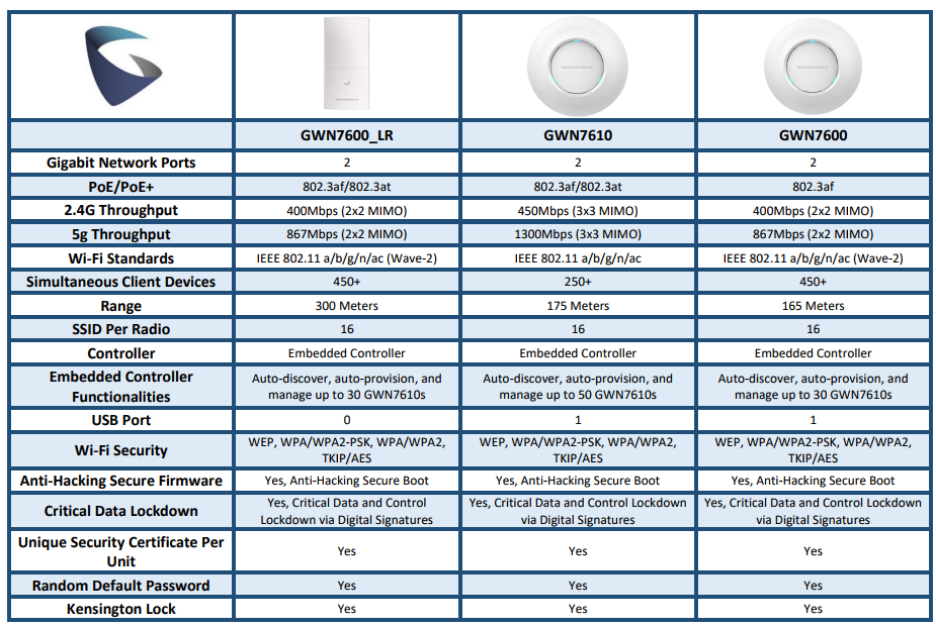 The GWN7600LR AP is very easy to install and manage. The extra coverage support and advanced performance features make the GWN7600LR an ideal outdoor access point for mid-size wireless network deployments. Call one of our VoIP experts at 1-800-398-8647 today for any questions you may have!