VoIP Phone and Headset Compatibility Guide is Now Available!
After a long wait time, the headset you ordered has finally arrived. You can't wait to open the box and try it with your VoIP phone but only find that it doesn't work with your phone!
Urgh…..how frustrating.
  Luckily, your apprehension has been heard!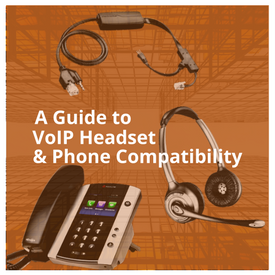 The VoIP Supply team has created a comprehensive VoIP Phone & Headset Compatibility Guide to lead you to your right solutions within seconds. This guide covers top brands of VoIP phones and headsets including Grandstream, Cisco, Polycom, Sangoma, Yealink, Snom, Mitel, Digium, Jabra, Plantronics, Sennheiser, and VXi. Best of all, it's FREE to download! Check it out today.
Learn the compatibility of IP phones and headsets
Explore ways of connectivity between IP phones and headsets
Learn product options for VoIP phones and headsets
Gain valuable insights to make the right purchase decision!
Fill out the form below to download: