VoIP Supply Announces the Addition of a West Coast Warehouse and Provisioning Site in Las Vegas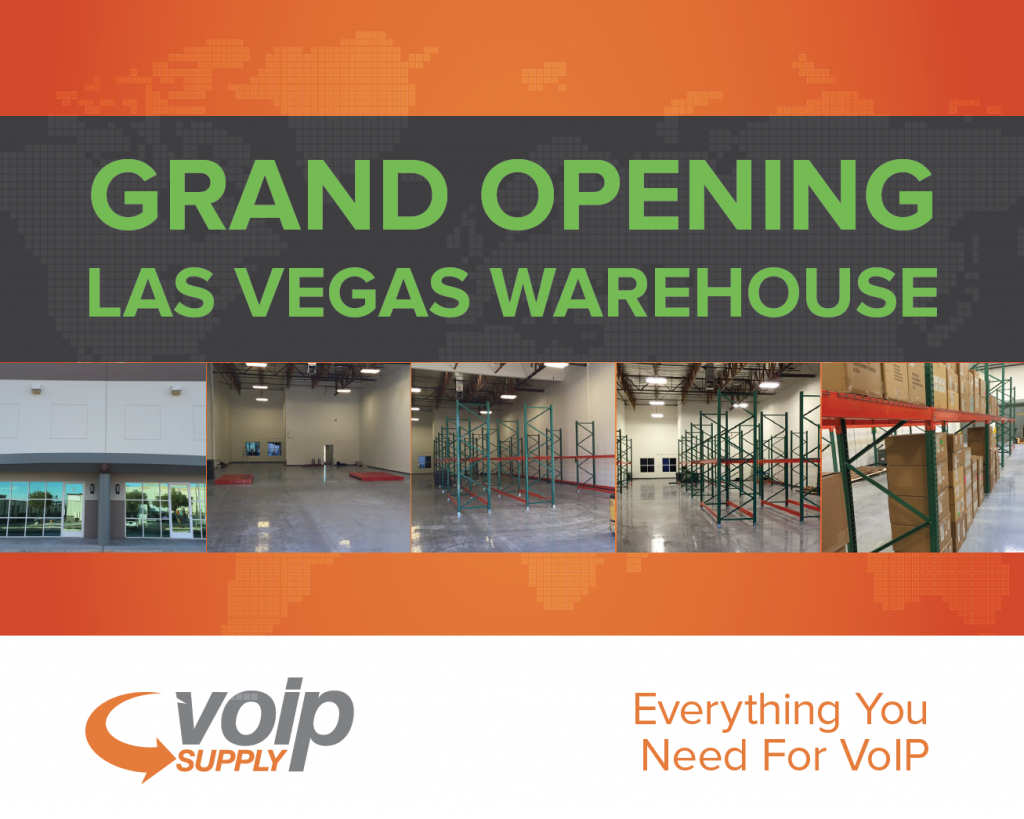 VoIP Supply LLC. North America's leading provider of VoIP solutions is excited to announce the addition of a West Coast warehouse and provisioning site, located in Las Vegas, Nevada.
Since 2005, VoIP Supply has been successfully completing VoIP fulfillment for clients directly through our warehouse location in Buffalo, NY. Over the years VoIP Supply has added, and expanded on our provisioning and fulfillment capabilities to meet our customer's needs and stay ahead of changes in technology. With such high demand, Ben Sayers, Founder and CEO of VoIP Supply knew it was time to expand and grow.
"We understand the value this location will bring to our current and future fulfillment partners," Says Ben Sayers, Founder and CEO of VoIP Supply. "With this addition, we will be able to increase services such as fulfillment, provisioning, PBX configuration and much more."
Along with fulfillment and provisioning services, VoIP Supply aims to increase the awareness and presence of their Reclaim program. Our Reclaim program is a superb outlet for selling off used and excess VoIP equipment and receiving fair market value.
If you are interested in more information about our fulfillment, provisioning or Reclaim services contact us at 1-800-398-8647 or visit our website at https://www.voipsupply.com
ABOUT VOIP SUPPLY FULFILLMENT
The team behind VoIP Fulfillment by VoIP Supply has been providing provisioning and fulfillment to VoIP Service Providers since the industry's beginning.
Many of our past and current customers were pioneers in residential and hosted VoIP back in the early 2000 era. By taking advantage of the services that we have to offer and the expertise we have in-house, these customers have been able to focus on the sales and marketing aspect of their business rather than trying to get pallets and boxes shipped in and out of their offices.
Our services have continued to evolve and improve over time, leveraging current technologies and passing along the access and efficiency to our customers.
ABOUT VOIP RECLAIM
VoIP Supply's Reclaim equipment buyback program is your outlet for selling off  your used and excess VoIP equipment.
With Reclaim you can submit your equipment for sale to VoIP Supply and receive fair market value for it allowing you to "reclaim" a portion of your original investment.
ABOUT VOIP SUPPLY
VoIP Supply, LLC (www.voipsupply.com) is your trusted source for everything VoIP; from our large selection of name-brand hardware to our CloudSpan Marketplace. VoIP Supply provides you with a fully staffed inbound call center with licensed, certified and highly trained VoIP experts that can help you with any problem you might have. Whether you are a home user, business, reseller or service provider, VoIP Supply has the products, experience and expertise to make your deployment a success.
VoIP Supply is a three-time Inc. 500/5000 honoree, listed by Business First as one of WNY's Most Admired Companies, as well as being consistently ranked one of Western New York's Best Places to Work. VoIP Supply is also the first Certified B Corporation in Western New York.
Our dedicated Solution Specialists are here to help, so call us today at 1-800-398-VoIP or visit our website at www.voipsupply.com