We're proud to announce that we've been named to the list of Western New York's Top Private Companies in 2013 by Buffalo Business First newspaper.
We have a deep respect for our customers and we thank them for making our success possible by supporting the way that we do business.
Nine Times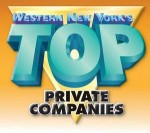 This is the ninth consecutive year that VoIP Supply has made the list moving up four spots from #46 to the 42nd ranking in 2013.
In 2002 Ben Sayers, our owner and CEO, founded the company to satisfy the growing demand for VoIP devices when there was no easily accessible retail outlet to get them from.
Several years later in 2005, when the niche VoIP market started to grow, VoIP Supply made its first appearance on the Top Private Companies list ranked at #96 and has climbed steadily ever since by expanding its catalog of VoIP phones and networking equipment to include video conferencing, IP surveillance, Unified Communication solutions, and hosted VoIP service.
More Than a Website
We pride ourselves on being more than just a website that sells you stuff. Our staff of passionate technology enthusiasts are always just a phone call away to help you build a custom solution or, just to answer some questions.
"I'm extremely proud of my team who are always putting our customers best interests first and for their belief in our sustainable business model that's committed to giving back to our local community," said Sayers.
VoIP Supply holds a B Corp certification which is to sustainable business what Fair Trade certification is to coffee. Learn more about how we put people ahead of profits.