Product was successfully added to your shopping cart.
Product was successfully added to your shopping cart.
Bicom Systems
Bicom Systems was the first company to deliver Open Source Communications Software as Professional Turnkey Solutions.
By combining the best of open source telephony and its own proprietary software, Bicom Systems can provide enterprises with turnkey solutions that take account of the clients' exact needs within a very cost-effective framework - giving CIOs the safest choice.
This mix includes royalty-free software, vibrant open source communities, available custom development backed up by accountable, professional support services. The company finds innovative open source communication projects and professionalizes the project by creating, unifying and supporting turnkey systems with its proprietary in-house software.
Bicom Systems provides the resources, core development, and support services to enable popular open source projects to scale into enterprise-class communications software.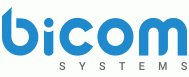 There are no products matching the selection.