Polycom 2215-07155-001 External Microphone Pods
Expand conference room coverage up to 20 x 30 feet for larger conference rooms. Used with SoundStation VTX 1000 and the IP 6000.

Polycom 2215-07155-001 Overview
Item 2215-07155-001
Extend Up To 6' On Either Side Of Base Unit
Increases Audio Conference Participants From 15 To Up To 25
Financing options are available - turn your Capital Expenditure into an Operating Expense with our Third-Party leasing options and Net30 Terms.
Contact a Video Conferencing Consultant today at 1(855) 820-8006 or email us at VideoConferencing@voipsupply.com.
We're sorry, there are no downloads available at this time.
Manufacturer

Polycom

Model

IP 6000 VTX1000 Exp Mics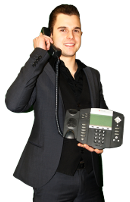 Brian Hyrek
Direct: 866-583-0815
Blog
For advice, reviews and industry insight... be sure to follow us online.