Linksys PA100
The Linksys PA100 is a 100V to 240V AC switching power supply for Linksys SPA900 Series, Cisco SPA300 Series and Cisco SPA500 Series VoIP phones as well as Cisco SPA21xx ATA's. The Linksys PA100 is design for use within North America.
Linksys PA100 Specifications
Input = 100-240v, 0.3A 50-60Hz
Output = +5V, 2 Amp Max
North American Plug
Cisco PA100 Compatibility
SPA921
SPA922
SPA941
SPA942
SPA901
SPA501g
SPA502g
SPA504g
SPA508g
SPA509g
SPA301g
SPA303g
SPA525g
SPA525g2
SPA2102
SPA3102
We're sorry, there are no downloads available at this time.
Manufacturer

Cisco

Model

PA100-NA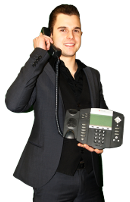 Brian Hyrek
Direct: 866-583-0815
Blog
Why Pay
$11.95

for the Linksys PA100?
Input Voltage: 100 V AC to 240 V AC

Output Voltage: 5 V DC, 2 Amp

Compatibility: Linksys SPA942, Linksys SPA941, Linksys SPA962
For advice, reviews and industry insight... be sure to follow us online.