Grandstream GXP2100 4-line IP Phone
The Grandstream GXP2100 is a 4-line SIP phone which features a 180x90 backlit graphical LCD display. The GXP2100 adds functionality with 3 XML programmable softkeys and 7 XML programmable BLF keys. The GXP2100 has dual 10/100 auto sensing network ports with integrated PoE and supports automated provisioning for large deployments. The sound quality of the GXP2100 is a cut above the old generation Grandstream phones since it supports G.722 Wideband codec for true HD quality audio.
Grandstream GXP2100 Product Overview
180x90 pixel backlit graphical LCD with up to 8 level grayscale.
4 dual-Color line keys (for 4 SIP Accounts), 3 XML programmable context-sensitive softkeys, up to 5-way conference, and up to 11 call appearances with 7 dual color BLF extension keys.
HD Wideband Audio, superb full-duplex hands-free speakerphone with advanced acoustic echo cancellation and excellent double-talk performance.
Large Phonebook (up to 2,000 contacts) and call history (up to 2,000 records)
Automated personal information service (ie: local weather, stock , currencies, RSS news, etc), personalized music ring tone/ring back tone/music-on-hold, flexibile customizable screen content & format using XML and advanced web and enterprise applications ingration.
Dual switched auto-sensing 10/10 PoE network ports
Automated provisioning using TR-069 or encrypted XML configuration file, SRTP and TLS for advanced sercurity protection, 802.1x for media access control
Didn't find the VoIP phone you were looking for?
Check out these other Grandstream Phones.
Grandstream GXP2100 Downloads
Manufacturer

Grandstream

Model

GXP2100

# of Lines

4

High Definition

No

Backlit Display

Yes

Color Display

No

Touchscreen Display

No

Protocols Supported

SIP

# of Ethernet Ports

2

Gigabit

No

Power

PoE (IEEE 802.3af), Power Supply Included

Headset Interface

2.5mm, RJ9

EHS Support

No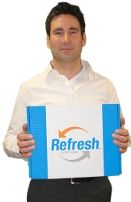 Michael Rehac
Direct: 716-213-6898
Blog
Why Pay
$99.00

for the Grandstream GXP2100?
Back-lit 180x90 graphical LCD display with up to 8 level grayscale

Dual 10/100Mbps Ethernet ports

Both RJ9 and 2.5mm jacks for professional and casual use
For advice, reviews and industry insight... be sure to follow us online.
Customer Reviews
OneSeventeen

Great device
We've tried Polycom 335's, Digium D40s, and Grandstream GXP2100's and based on reviewing and using them we are standardizing on these Grandstream phones.

Call quality is great, BLF features are great, and the price is good as well.

I haven't dealt with Grandstream for support so I can't speak to the company, but I can say for the quality, features, price, and ease of deployment we will be using these as our default desk phone from now on.

Side note: we're using it with Elastix (an Asterisk based PBX) using a free Endpoint Manager plugin.

(Submitted on ) | by

Kervork

Crap
Total piece of steaming crap from crappy company.

(Submitted on ) | by
Alternatives To This Product
Your Price:

$169.99




Add To Cart For A Better Price!