Grandstream HT701 ATA
The Grandstream HT701 is a 1 port analog telephone adapter (ATA) which allows you to use an analog phone or fax device on an IP or VoIP network.
Grandstream HT701 ATA Overview
The Grandstream HT701 is a powerful VoIP ATA for residential users and road warriors. Its ultra-compact size, superb voice quality, rich functionality, strong security protection, excellent manageability, and auto provisioning enables service providers to offer high quality IP Voice service at extremely competitive prices.
The HT701 is an ideal single-port ATA for large scale commercial IP Voice service deployment. It is also a good choice for road-bound employees who can tap into the company IP Voice system using an existing analog line in their hotel rooms.
Grandstream HT701 Features and Functions
1 FXS port for analog devices
1 10/100 Ethernet Port
LED indicator lights for Power, Internet, LINK/ACT, and Phone Status
Advanced telephony features:

Caller ID
Call Waiting
3-way conference
Transfer
Forward
Do not disturb
Message Waiting Indication
Multi-language voice prompt
T.38 fax
Flexible Dial Plan
Voice Codecs: G.711a/u, G.723.1, G.729a/b, G.726, iLBC
Strong security protection: TLS/SRTP/HTTP
Automated provisioning: TR069, HTTP/HTTPS/TFTP

Didn't find the VoIP Adapter you were looking for?

Check out these other Grandstream VoIP adapters:
We're sorry, there are no downloads available at this time.
Manufacturer

Grandstream

Model

HT701

# of FXS Ports

1

# of FXO Ports

0

# of Ethernet Ports

1

Built-In Router

No

Wireless

No

DHCP Capabilities

No

Fax Support

T.38

Protocols Supported

SIP

Provisioning Options

Auto Provisioning, HTTP, HTTPS, TFTP

Voice Signaling Methods

No

Power

Power Supply Included

FXO Gateway Support

No

Lifeline Support

No

MWI Support

Yes

PSTN Pass-thru

No

Voice Codec Support

G.711 a/u law, G.729 a/b, G.723, iLBC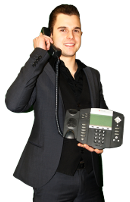 Brian Hyrek
Direct: 866-583-0815
Blog
Why Pay
$35.00

for the Grandstream HT701?
Small, ultra compact form factor

1 FXS port, 1 10/100 Internet port

Includes power supply
For advice, reviews and industry insight... be sure to follow us online.
Questions on Grandstream HT701
Q: I purchased a brother FAX 575 to use in the office however, it is not sending faxes due to the VOIP. It can receive but not send. Would this adapter work if connected to that fax machine to keep us from having to replace the equipment? If not, do you have another product to consider?
A: Can you tell me how this fax machine is connected? I'm wondering why it can receive and not send.

You can use the Grandstream gateways to connect your fax machine to your PBX, and there are other products as well. I'm sending this to our sales team so they can assist you further.
Q: I have a polycom conference phone that I cannot use in the office because of VOIP. Will this product work to allow this phone to be used? If so, how does it work. I'm hoping for an easy, plug the cord into it-type option.
A: If the Polycom is an analog phone then yes the HT701 will work with it. You will need to do some configurations to the HT701 to get it to work. It is not a plug and play option
Alternatives To This Product