About Polycom
Polycom is the industry leader in unified collaboration solutions.
Companies choose Polycom for solutions that enable their geographically dispersed workforces to communicate and collaborate more effectively and productively over distances.
Using Polycom telepresence, video, VoIP phones and voice solutions and services - people connect and collaborate from their desktops, meeting rooms, class rooms, and mobile settings.
Why buy Polycom?
Polycom products delivers fast, proven ROI and a consistently superior end-user experience!
Polycom solutions work the way you work.
Polycom is the established leader in Voice, Video and Telepresence.
Polycom solutions make good business sense.
The global leader in telepresence, video, and voice solutions, Polycom is a visionary in communications that empower people to connect and collaborate everywhere.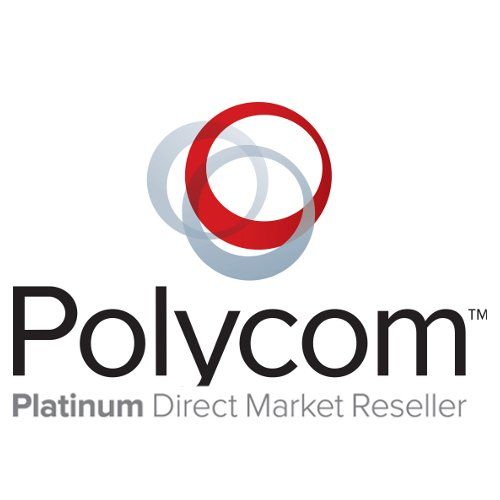 The Spectralink 8030 handset bundle includes a Spectralink 8030 handset and 2 extended life Li-Ion battery packs.

Spectralink 7110 DECT handset 1G9 for Healthcare and Nursing Homes (formerly known as Polycom KIRK 7010)


SpectraLink 7640 DECT handset 1G9 for Manufacturing (formerly known as Polycom KIRK 6040)

SpectraLink 7620 (formerly Polycom Kirk 6020 DECT) handset optimized for manufacturing 1G9


Spectralink KIRK 7740 1G9 DECT Handset. Bacteria-resistant design with man-down alarms. (formerly Polycom KIRK 7040)


Spectralink 7720 1G9 DECT handset for healthcare. Bacteria resistant design. (formerly Polycom KIRK 7020)


The Polycom 2200-42740-001 48 Watt AC power supply for the Polycom Soundstation IP 6000 conference phone including power brick and North American connector cord.

Charger for SpectraLink 77-Series Handsets (formerly Polycom KIRK 7010, 7020, and 7040 handsets). DOES NOT INCLUDE POWER SUPPLY. 84642493

The Polycom HDX 7000-720 is a 720p room telepresence solution that includes the Polycom EagleEye III camera, codec and HDX Microphone Array. The HDX 7000-720 uses Polycoms video and audio technology to provide a video conferencing experience that is intuitive, powerful, and affordable.
The Polycom IP501 is a three-line desktop IP telephone that delivers exceptional sound quality. The Polycom IP501 also offers dedicated feature keys and one-button access to essential telephony features. The Polycom IP 501 is interoperable with leading IP PBX and Softswitch platforms.

The Polycom VVX 500 is a 12 SIP line multimedia IP phone with dual 10/100/1000 PoE Ethernet ports and a 3.5" capacitive color touch screen.

The Polycom SoundStation Duo is an IP conference phone for small to medium sized meeting rooms that will work in both an IP or an analog phone setting. REFRESHED

The CX700 is an executive IP phone for use with Microsoft Office Communications Server 2007, including a color touch screen with an embedded Microsoft Office Communicator 2007 client and does not require a computer

The SpectraLink 8030 Wireless Handset and dual charger bundle is an all inclusive package including the Spectralink 8030 handset, a dual charger, 2 Ultra-Extended Life Li-Ion Battery packs, and a North American Power Supply.

The Refreshed Polycom KIRK 5040 DECT phone allows for mobility within the organization while letting the user enjoy all the advanced features they have come to expect on their desktop phone. The Refreshed Polycom KIRK 5040 DECT phone includes the handset, battery, charge station and power supply.

The REFRESHED Polycom CX600 is a full-featured UC desktop phone, optimized for use with Microsoft® Communications Server 14 environments, that helps office and cubicle workers maximize productivity

The Polycom VVX 300 is a 6 line HD Voice business media VoIP phone with dual 10/100 RJ45 ports making it ideal for call center operators and cubicle workers. The VVX 300 has been designed to be both easy to use and install helping to increase productivity.

The Polycom VVX 310 is a 6 line HD Voice business media VoIP phone with dual Gigabit RJ45 ports making it ideal for call center operators and cubicle workers. With Gigabit capabilities, easy integration with third-party web-based applications and an intuitive user interface the VVX 310 is a future proof VoIP phone.