About QuickPhones
QuickPhones is a rapidly growing developer of innovative, Enterprise-Grade SIP and WiFi VoIP phone solutions for use with SIP-Compatible VoIP networks. These solutions include a family of SIP desk phones, WiFi phones, and Survivable Gateways for single and multi-office locations.
QuickPhones, established in 2006, is a wholly-owned subsidiary of ATI Applied Technology, LLC. QuickPhones was established to design, develop and deliver to small businesses/entrepreneurs a VoIP phone system that was not only cost-effective and easy to work with, but also provided the telecommunications capabilities to help them become and stay competitive in today's market.
In 2008, in response to growing market demand, QuickPhones expanded its business model to develop and deliver Enterprise-grade SIP desk phones, WiFi phones, and survivable gateways for single and multi-office locations. These QuickPhones solutions are brought to market through a global network of QuickPhones Partners.
Why buy Quickphones?
QuickPhones SIP solutions are reliable, flexible, resilient, secure, and affordable for any enterprise, small business, branch office, home office, service provider, or consumer.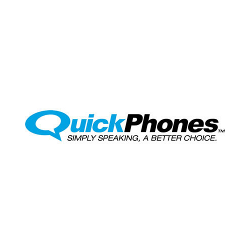 There are no products matching the selection.