Yealink T26P IP Phone
The Yealink T26P is a POE enabled advanced SIP phone featuring 3 SIP lines and HD voice hardware and software support.
Yealink T26P Product Overview:
The Yealink T26P is an advanced IP phone which is designed for maximum productivity and efficiency in the everyday business environment. It is equipped with the leading TI Titan chipset, offers high definition voice (HD Voice) through the TI Voice engine, HD handset, HD Speaker, and the HD Codec (G.722). The SIP-T26 includes 10 DSS keys for programming IP-PBX features such as BLF/BLA, intercom, call pickup, etc. Six navigation keys and four context sensitive soft keys help you create an easy user interface. Ten dedicated hard keys provide you with direct access to the functions for audio and call control. The SIP-T26 allows for an RJ9 headset and up to 6 EXP38 expansion modules.
Advanced IP Phone with 3 lines & HD voice
TI TITAN chipset and TI voice engine
6 VoIP accounts, 320x160 graphic LCD
HD Voice: HD Codec, HD Speaker, HD Handset
BLF/BLA, XML phonebook, Auto-provision
2xLAN, PoE, Headset, Expansion module
Yealink T26P Features and Specs:
Phone Features
3 VoIP accounts, hotline, emergency call
Call waiting, call transfer, call forward
Hold, mute, flash, auto-answer, redial
3-way conference, DND, speed dial
XML Phonebook search/import/export
Black list, call history (100 entries)
Volume adjustment, ring tone selection
Tone scheme, System log
Multi-language (more than 20)
Supports up to 6 expansion modules
IP PBX System Integration
Dial plan, dial-now
SMS, Voicemail, MWI
BLF/BLA, intercom, paging
Call park, call pickup
Distinctive ringtone
Codecs and Voice Features
Wideband codec: G.722
Narrowband codec: G.711, G.723.1, G.726, G.729AB
VAD, CNG, AEC, PLC, AJB, AGC
Full-duplex speakerphone with AEC
Network Features
SIP (RFC2543), v2 (RFC3261)
NAT Traversal: STUN mode
DTMF: In-Band, RFC2833, SIP Info
Proxy mode and peer-to-peer SIP link mode
IP Assignment: Static/DHCP/PPPoE
TFTP/DHCP/PPPoE client
Telnet/HTTP/HTTPS server
DNS client
NAT/DHCP server
Management
FTP/TFTP/HTTP/PnP auto-provision
Configuration: browser/phone/auto-provision
Direct IP call without SIP proxy
Dial number via SIP server
Dial URL via SIP server
Security
HTTPS (server/client)
SRTP (RFC3711)
Transport Layer Security (TLS)
VLAN (802.1 pq), QoS
Digest authentication using MD5/MD5-sess
Secure configuration file via AES encryption
Phone lock for personal privacy protection
Admin/user configuration mode
Physical Features
TI TITAN Chipset
132x64 graphic LCD
45 keys including 13 programmable keys
1xRJ9 (4P4C) handset port
2xRJ45 10/100M Ethernet ports
1XRJ12 (6P6C) expansion module port
Power adapter: AC 100~240V input and DC 5V/1.2A output
Power over Ethernet (IEEE 802.3af)
Power consumption: 1.6-2.6W
Net weight: 1.05KG
Dimension: 273x204x42MM
Operating humidity: 10~95%
Storage temperature: up to 60°C
Didn't find the Yealink phone you were looking for?
Check out these other VoIP phones by Yealink:
We're sorry, there are no downloads available at this time.
Manufacturer

Yealink

# of Lines

3

High Definition Voice

Yes

Backlit Display

Yes

Color Display

No

Touchscreen Display

No

Protocol Supported

SIP

# of RJ45 Ports

2

Gigabit

No

PoE Compatible

Yes

AC Power Supply Included

Yes

Headset Interface

RJ9

EHS Support

Yes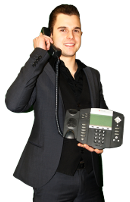 Why Pay
$145.00

for the Yealink SIP-T26P?
3 VoIP accounts, hotline, emergency call

Call waiting, call transfer, call forward

Wideband codec: G.722
For advice, reviews and industry insight... be sure to follow us online.
Customer Reviews
Robert

good customer support
We have a number of these phones and they have been good performers and easy to configure. When we got one that didn't work, VoIP Supply was quick to replace the phone. That is what we look for in our enterprise partners - good customer support.

(Submitted on ) | by