Product was successfully added to your shopping cart.
Product was successfully added to your shopping cart.
About Bicom Systems
Bicom Systems was the first company to deliver Open Source Communications Software as Professional Turnkey Solutions.
By combining the best of open source telephony and its own proprietary software, Bicom Systems can provide enterprises with turnkey solutions that take account of the clients' exact needs within a very cost-effective framework - giving CIOs the safest choice.
This mix includes royalty-free software, vibrant open source communities, available custom development backed up by accountable, professional support services. The company finds innovative open source communication projects and professionalizes the project by creating, unifying and supporting turnkey systems with its proprietary in-house software.
Bicom Systems provides the resources, core development, and support services to enable popular open source projects to scale into enterprise-class communications software.

Why Bicom Systems?
Easy to set up with a step-by-step setup wizard

Combie audio conference, instant messaging, video call, fax and more all from one single interface

PBXware integrates with most business-critical apps and services

Branding package - all software and documentation contains your brand name, logo and company colors
What Bicom Systems offers
Easy Setup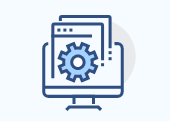 Unified Communications

CRMS

Branding

Get A Quote through VoIP Supply Today!