DECT Phone 101 – Get your DECT Phone Questions Answered!
Lately, our team has been getting a lot of interests and questions on our DECT phones, therefore, we decided to create a post to help you learn more about DECT technology. In this post, we will tackle a few frequently asked questions about DECT.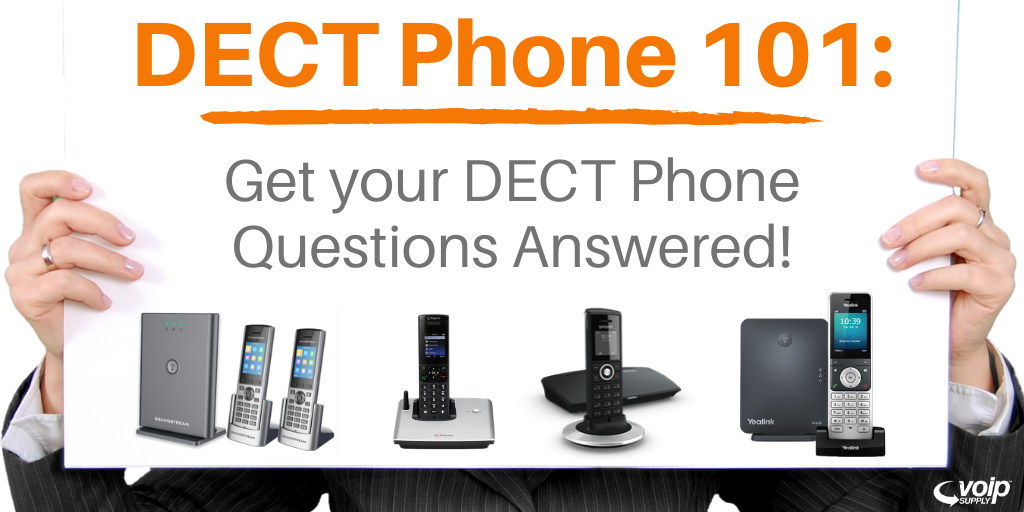 If this blog post doesn't answer your question, don't worry, simply chat with us on our website or give us a call directly at 1-800-398-8647!
What is a DECT phone?
DECT stands for Digital Enhanced Cordless Telecommunications. DECT phones are a type of wireless phones that typically gives you a range of up to 300 feet indoors and 500 to 800 feet outdoors depending on the models you choose. A DECT phone comes in handy when you need to roam in the house without being tied to your seat.
What does DECT 6.0 mean?
The DECT 6.0 technology is only involved in making the phone cordless and you will still need some type of phone service, such as VoIP service, to send and receive calls. Watch our short video to learn about the DECT: https://www.youtube.com/watch?v=mmnw-MH6cOA&feature=emb_logo
What is the difference between DECT and Bluetooth?
One of the biggest differences between DECT and Bluetooth is the mobility range. While Bluetooth generally delivers short-range wireless mobility; DECT technology provides you with a greater range, around 330 feet (100 meters).
Are you wondering about the differences between DECT phones and WiFi phones? Follow the links below to learn more:
What are the advantages of DECT phones?
DECT phones are popular for a reason. They provide high quality voice and longer range than other wireless phones. Here we will name a few key advantages:
Greater mobility and flexibility
Seamless roaming
Better voice quality or Quality of service (QOS) than WIFI phones
Longer battery life than WiFi phones
What are the popular DECT phones?
VoIP Supply carries over 50 DECT phones from known brands such as Poly, Yealink, Grandstream, and Sangoma. Here are a few DECT phones of our customers' favorites:
Do you want to learn more about wireless or DECT solutions? Download our Wireless VoIP guide here!