Digium Released NEW E-Series Switchvox Appliances and Subscription Changes

August 1st, 2017, Digium announced the release of their new E-Series Switchvox appliances and subscription changes.
Targeting small to medium businesses, Digium's new E-Series Switchvox appliances are built with less operational complexity and better value at an even lower price. The Switchvox E-Series includes the E510, the E520, the E530 and the E540. Let's see what all the buzz is about!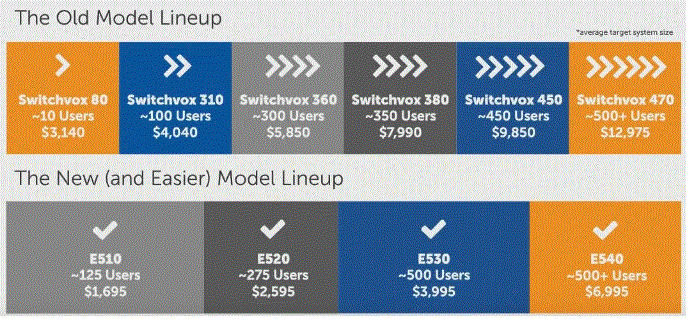 Up to 500 Users and 200 Concurrent Calls
If you have ever used any of the older versions of the Switchvox appliances, you will tell the difference right away. The E-Series are all SIP only appliances with up to 600 supported phones, 200 concurrent calls, and 200 conference users. Much powerful and flexible than before.
Less Weight, Lower Price
Comparing to the older, smallest versions of the Switchvox appliances, the Switchvox 80 and the Switchvox 310, the E510 is much lighter (less than 2 lbs) and can easily fit in your backpack. What's even better is that you can get the E510 for less-than-half the price of the Switchvox 310. It comes with no bundled registration code (hardware only) and pre-installed Switchvox software.
The next level up, the E520 appliance also supports more concurrent calls and conference users (up to 100) than its counterparts with only 6 pounds of weight at a much lower price. The E-Series appliances are the first ever Switchvox appliances that are powered by Dell hardware. Check out how the E520 and E530 compare to the older Switchvox 310 and the Switchvox 360 models in the charts below!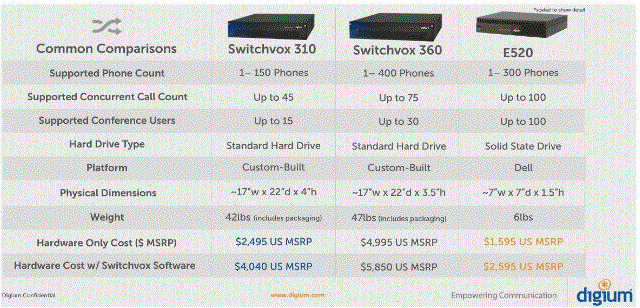 iDRAC8 Enterprise with Lifecycle Controller
The E530 and E540 support up to 600 phones and up to 200 concurrent calls. They are also Dell-based appliances with less than 24 lbs weight at a much affordable price. These two models are equipped with the iDRAC8 Enterprise with Lifecycle Controller with no additional costs, allowing you to monitor, maintain, and update your units easily.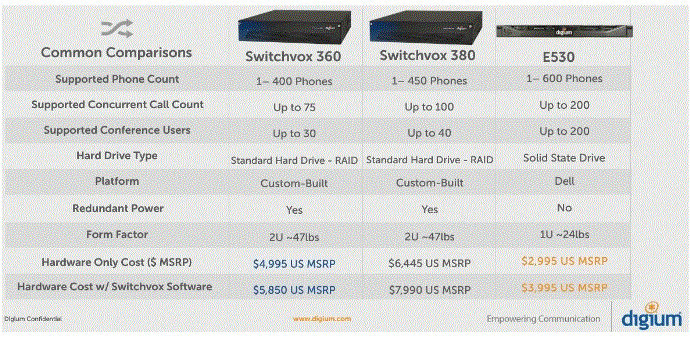 Where Can I Purchase the E-Series?
The E-Series Switchvox Appliances are now available for purchase on VoIP Supply's website. Visit our Siwtchvox product page to learn more about the new appliances or simply call our VoIP experts at 1-800-398-8647 today for more details!
Subscription Changes
The other big announcement today is Digium's support subscription changes. Digium previously had four main support levels (Silver, Gold, Platinum, and Titanium), +Virtual as well as Maintenance. These are sold by a single user, 5-user, 25-user, and 100-user pack.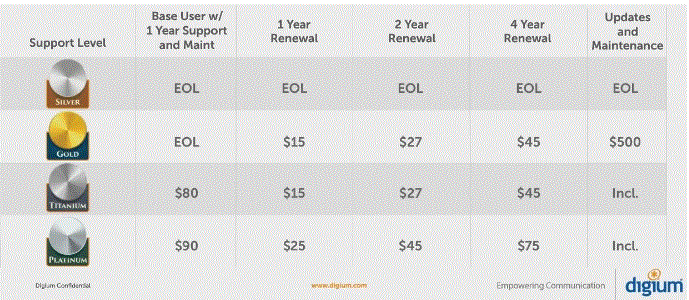 Gold Subscriptions
Originally, Digium announced that on October 1, 2017, current Gold Switchvox subscriptions would no longer be available for renewal. They have amended that policy to the following:
Customers with current Gold subscription will be grandfathered into the Legacy Gold support level and can continue to renew their support by purchasing Gold renewals and system maintenance beyond October 1, 2017

Legacy Gold customers will also be able to add additional subscriptions to their existing Gold systems.

Any customer buying a completely new system will be purchasing under the current pricing model rolled out on August 1, 2017, which only allows for Platinum and Titanium Subscriptions
Silver Subscriptions
Silver subscriptions are end of life. Our earlier communication was that Silver customers would be upgraded for free to Gold support by purchasing Gold renewals and system maintenance by September 30, 2017. As a result of initial customer feedback, Digium will be revising our policy to the following:
Silver is end of life, but a Silver customer can upgrade to Gold for free beyond October 1, 2017.
Optionally, Silver customers can opt for 24/7 support and upgrade to Platinum for a small fee per user. Platinum does not require a yearly maintenance fee (previously $500 per system), so for many customers, this will be the preferred, most cost-effective route.
Silver customers upgrading to Gold will be able to renew and add subscriptions per the details above.
Any customer buying a completely new system will be purchasing under the current pricing model rolled out on August 1, 2017, which only allows for Platinum and Titanium Subscriptions