Fanvil Rings in New Year with Exciting New Hotel Phones, PA3 Paging Gateway, and More!
Fanvil kicks off the new year with several exciting new products and we want to make sure you are not missing out!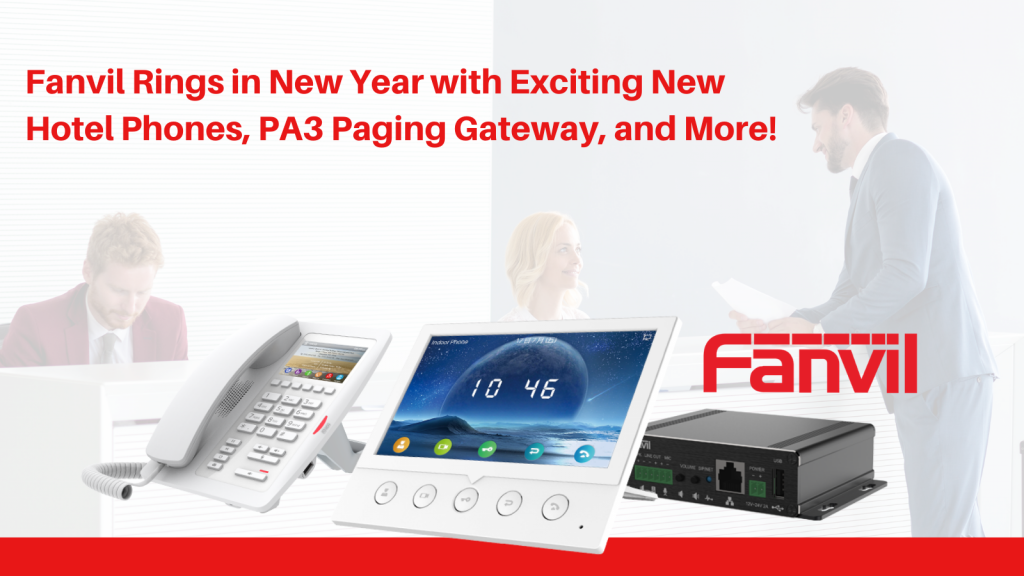 During our webinar this month with Fanvil, we talked about the differentiators of the popular Fanvil XU Series IP Phones, the new PA3 Paging Gateway, the new I-Series SIP Indoor Station, Fanvil's white labeling options, and so much more! If you missed the webinar, don't worry, here's a quick recap and summary for you:
Download the Presentation Slides here to Learn More!
Fanvil's XU Series IP Phones
Most of you must be familiar with Fanvil's XU Series by now! This "all-inclusive" IP phone series highlights:
Non-Intrusive SIP and BLF Keys (Design)
Like replaced Panasonic/Nortel/…more
Tackle multi calls w/o disturbing BLFs
Dual/Triple Color display (Design)
Harmon Speaker (Quality)
Two Year Warranty (Quality)
Custom Branding! (Flexible)
Smart Phone Pairing (Convenient)
FDMS – Management System (Convenient)
Local Support
Fanvil's New PA3 Paging Gateway
The Fanvil PA3 is a versatile device for public broadcasting that offers HD Audio and rich-features that can be handled through an easy-to-use interface.
The PA3 can be used to send real-time public announcements, as well as configured to send fixed MP3 announcements. It also has a one-touch intercom feature that can be used when connecting to external devices. Since the PA3 is easy to install and use, it makes for a perfect DIY solution that can meet the demands of any school campus, shopping mall, office building, and more.
Fanvi'ls New H-Series Hotel Phones
Check out Fanvil's new H5W and H3W hotel phones. The H5W hotel phone brings the same great features and design you've come to know and love from the Fanvil hotel phones, but with the added benefit of built-in WiFi!
The H3W has an integrated USB charging port and supports the Opus Codec. Add to that HD Audio and you have a quality phone at an unbeatable price.
White Labeling Options for the Fanvil XU-N Series
Did you know that Fanvil has white labeling options? You will be able to use your own customized logo and the printing is free for orders over 200!
X3U, X4U, X5U, X6U, X210
XU-N series use removable/replaceable PVC logo stickers/inserts
Free printing of custom sticker when ordering 200+
5 – 7 days after artwork is approved
Fanvil's New i51W/i52W/i53W/i56A Indoor Stations
Be sure to check out Fanvil's latest SIP indoor station series with a clear color screen and easy-to-access buttons! These stations are designed for remote access security control and can be connected to alarms and other intelligent security devices via SIP/rich interfaces!
Last but not least, don't forget to take advantage of Fanvil's test-drive bundle promotion! Visit our website to learn more about Fanvil's new products or simply give us a call at 1-800-398-8647 today!