Faxing and VoIP at a Near Flawless Success Rate
Well for those of you in the VoIP industry, and for those of you just starting to learn about it, you will hear many horror stories about VoIP and faxing. Often you will hear how unsuccessful it is, and some will hear more vulgar words in conjunction with it. But what if you had that magic wand to make it work? Would you trust it? Would you try it? To what extent would you try it before tossing it out the window? What if I told you that there is technology out there that can fix Faxing over VoIP that is notorious for not being successful and being the cause of many long days and even longer nights?
These are all questions that the great VoIP thinkers at Sangoma have put onto the drawing board and now have come up with a solution: The Sangoma Faxing Synch Cable. This was first introduced to us by Konrad Hammel, a Field Applications Engineer with Sangoma that visited VoIP Supply for Training on the newest PCI cards.
Wondering how it works, and what you need for a near flawless success rate?
Well let's start off with an IP PBX. The Phonebochs appliance, trixbox appliance, or a blank chassis using Plain Jane Asterisk will do to start.
From there, PCI cards. More Specifically Sangoma analog and digital PCI cards. Which ones you ask? Well you will need two of them. A digital PCI card, like the A101D, or A102D (T1 Digital PCI card), and then an Analog card to hook your fax machine up to. (A20100D (2 Port FXS), A20200D (4 Port FXS)) Cards are good, but you can go to a bigger FXS card if you wish. The only limit to the amount of ports is that of your IP PBX and its limitations; however I do recommend using echo cancelation on both cards, and trust me, it is well worth it.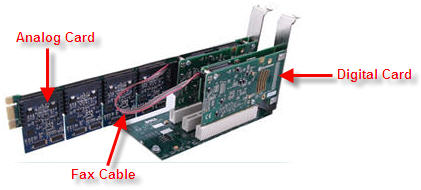 From here it doesn't look like anything special–some of you may already have this and could possibly be drooling at this setup because it is easy. Well there is one more piece. And at this point you are probably thinking that it will be expensive and that now it's not worth it to read on, but please keep reading, because what I am about to tell you will blow you away. The key to this is only $10. That's right, for $10 you can have a near perfect success rate with LITTLE configuration of the cards and codecs. But how do you use it? Well this small cable will connect to a two prong section on the top of the Digital card, then the other end will hook up to a similar spot on the Analog card. From there, the cable will automatically start the synch and make it work. That's it. Go figure. For decades this has been hindering businesses, and all it took was a small cable to fix it.