How to Recycle Old VoIP Equipment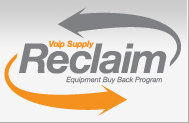 If you are looking to upgrade your VoIP System to a newer one or upgrade your VoIP phones to the latest and greatest, perhaps you have thought about what to do with your old VoIP Equipment.
VoIP Supply is a fantastic place to start your research. VoIP Supply's Reclaim program buys back old VoIP equipment and gives you credit towards your new VoIP System or VoIP Phones.
How Reclaim Program Works
First, you need to accept the fact that you have old VoIP equipment and you have to want to get rid of it.
There is no room for hoarders in the Reclaim program.  Once you have accepted that fact and are ready to be out with the old, contact our Reclaim Specialist, Mike Rehac. Email him a list of the VoIP equipment that you want to get rid of.
Then, Mike will email or call you back with an offer on your equipment. The value Mike offers you may vary depending on condition of the product and demand for the product.
Once you confirm our offer, you will be immediately redirected to print your prepaid FedEx shipping labels so, we take care of that expense as well!
Once we receive your equipment, we will send you a check or issue you a credit towards your new VoIP hardware.
What Products is Reclaim Looking For?
We will consider purchasing any VoIP products that you may have.  However, if you have any of these following products aging in your on-site hardware graveyard, give us a call because we WANT IT!
Cisco SPA504G
Cisco SPA2102
Polycom IP670
Polycom IP650
Polycom IP601
Polycom IP560
Polycom IP550
Polycom IP450
Polycom IP430
Polycom IP335
Polycom IP331
Polycom IP6000