Microsoft Teams Certified IP Phones and Conference Phones Comparison
Last Updated in August 2021
As the number of Microsoft Teams users continues to grow, more and more desk phones and conference phones are now certified with Teams to streamline team collaboration and communication experience. Are you wondering what VoIP Phones are certified with Teams? Let's check them out!

Microsoft Teams Certified Desk Phones
Audiocodes C450HD Microsoft Teams Phone
The Audiocodes C450HD is a native Teams phone that contains a large 5'' color touch screen with integrated Bluetooth and an optional WiFi support.
With one simple click, you can easily toggle between Microsoft Teams and Skype for Business! The C450HD also comes with 8 programmable keys that will give you the flexibility you want.
8 line, 8 concurrent calls per line
5" color TFT screen (1280 x 720) with multi-lingual support
Touch screen user interface enabling up to 8 programmable keys
See AudioCodes 400HD Series Datasheet
AudioCodes C470HD with Power Supply
Another Microsoft Teams-native phone from AudioCodes is the C470HD IP phone. This device features a 5.5 inch color touch screen with optional support for WiFi and Bluetooth. Your team can join a call, play voicemails, and enjoy all essential calling features easily.
Native support for Microsoft Teams
5.5" color touch screen (1280 x 720) with multi-lingual support
GbE support
USB headset support
Bluetooth 5.0 support
PoE or external power supply
Poly (Polycom CCX Series) Microsoft Teams Phones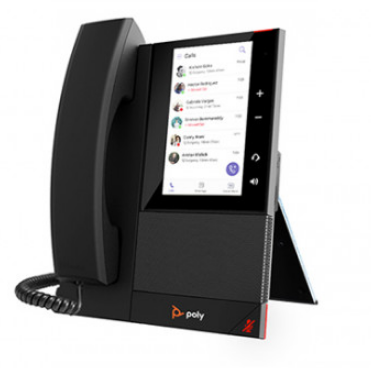 Poly's CCX Series phones are popular for Microsoft Teams users! These IP phones give you native Microsoft Teams experience with a dedicated button. From entry level to executive level, the CCX series has the right Teams phone you are looking for. This Series includes the CCX 400, CCX500, CCX600, and more!
Key Advantages:
Native Microsoft Teams experience
Color touchscreen operation
Hear every nuance with award-winning Poly audio technology
Yealink T58A, T56A, and T55A Microsoft Teams Phones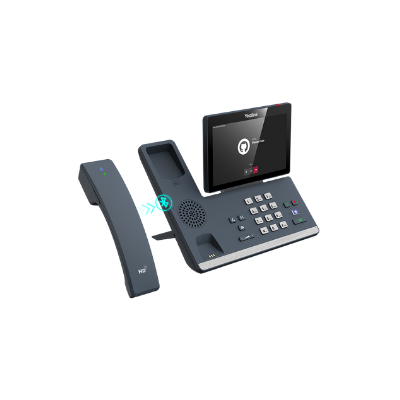 Comparing to the C450HD, Yealink's T58 and T56 Series IP phones have a bigger touch screen and more SIP lines (16). These devices are easy-to-use smart media phones that provide HD audio, 7'' touch screen, built-in Bluetooth and wifi support, and more features.
The Yealink T55A is another Teams phone from Yealink. This device is a mid-level IP phone that comes with a slightly smaller touch screen (4.3'') and only one USB port. No expansion module is supported for this model.
All Yealink Teams Phones support popular Teams features such as One-Click Join, Visual voicemail, P2P call/Cloud PSTN call, and more.
See Yealink Teams Phones Comparison Chart
Microsoft Teams Certified Conference Phones
Now that's talk about conference phones. Poly (formerly Polycom) is no stranger to the conference phone industry of course! Poly's Trio 8500 and 8800 are both compatible with Sky for Business and Microsoft Teams.
These two devices are designed for a mid-sized conference room with 3-microphone array. The Trio 8800 has a slightly longer pickup range (20 feet) than the Trio 8500 (14 feet) and it supports wireless options.
Yealink CP960 Teams Phone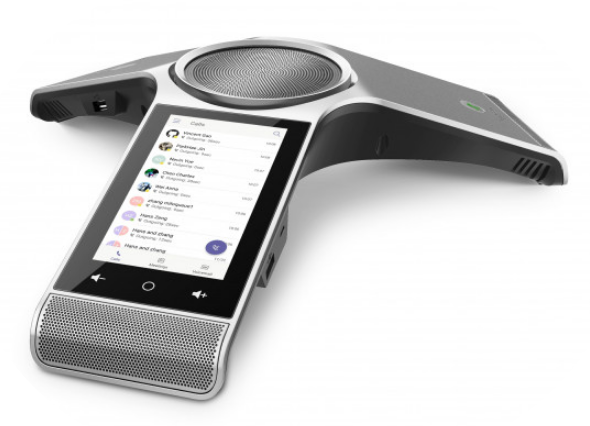 Yealink is another big play for Teams conference phones. Check out the CP960 Teams edition, an Android-based conference phone for medium to large room settings. This unit comes with 2 optional external wireless microphones and 20-foot, 360-degree pickup range. The built-in Wi-Fi & Bluetooth support makes connecting with your whole team a breeze.
20-foot and 360-degree microphone pickup range
Two additional CP Wireless Expansion Mic CPW90
Built-in 3-microphone array
Take a look at our comparison chart above to see these Teams certified IP phones side by side.