The differences between hosted and on-site systems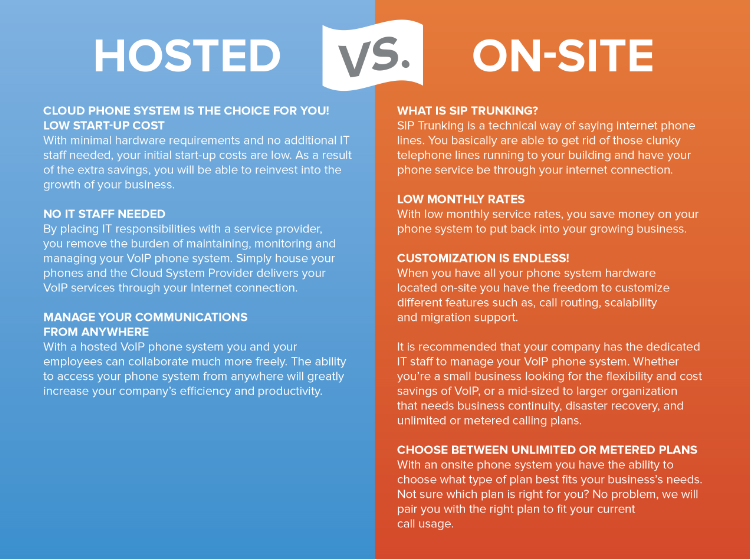 The first step when implementing VoIP Service is to choose a hosted or on-site system. This can be a difficult decision if you are not a VoIP service expert. Surely consulting an expert can make things easier and simpler; however it's even better to have some of your own knowledge before you consult the experts. After reading this blog, you will have a basic picture of the best VoIP service solution for your business.
Hosted VoIP Systems
A hosted VoIP system is usually an ideal option for inexperienced VoIP beginners as everything is taken care of by a third party company. Taking advantage of the hosted VoIP system, users with minimal hardware and no additional IT staff can switch to VoIP service seamlessly and enjoy the benefits it brings just like other VoIP service experts. This solution is a favorite for small-scaled companies with a limited budget for three main reasons:
Low initial startup costs: Little VoIP hardware purchase is required. Low upfront costs means more savings to reinvest back into growing your business.
No IT staff needed: The hosted VoIP service provider will be responsible for maintaining, monitoring, and managing your phone system. Placing IT responsibilities to your VoIP service provider can save you a lot of time, money, and energy.
Flexible management: With a hosted VoIP phone system, communications management is easier and more flexible than ever before. Being able to access the phone system almost anywhere anytime, you and the involved parties can work more efficiently and productively.
On-Site VoIP Systems
An on-site VoIP system means that you have all the phone system hardware required to run directly on site. This is a great solution for enterprise businesses who need more customized functions. The key features of an on-site VoIP system include:
Highly scalable and flexible: Everything is operated on your site, so you have better control of what you want to accomplish such as call routing, scalability, migration support and more.
Dedicated IT staff recommended: Since you are working more independently with an on-site VoIP system, it's recommended to have dedicated IT staff on site to help troubleshoot any technical issues and configurations.
Higher upfront costs with low monthly rates: Although an on-site VoIP solution requires higher upfront costs to purchase the required VoIP equipment (Servers, switches, phones, etc), this is also a great long-term investment as you own the equipment. With low monthly rates, you can save a fortune and put back into your business growth.


What's Next?

Now you have learned the differences between a hosted and on-site system. Whether you have made a decision or you're still researching, contact a VoIP solutions expert to discuss your thoughts and needs to winnow out the best VoIP service solution and service provider for your business.

Our CloudSpan MarketPlace is a one-stop shop to help you choose the ideal service provider to meet your business requirements. Simply fill out the form below to request a free consultation. We look forward to hearing from you and will be happy to provide you anything you need for VoIP.