Why Build an In-house VoIP Call Center?
Compared to a third party contact center, an in-house VoIP call center is able to generate customized calls and the ability to serve your customers promptly. However, establishing an in-house call center can be a nerve-racking task for many small businesses, like yourself.
Whether you are struggling with a tight budget or a narrow office space, in this new era of VoIP Cloud Service, these apprehensions can no longer hinder you from accomplishing your goal – building a well-functioning call center.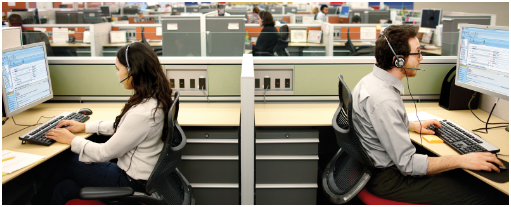 Establishing a Call Center With a VoIP System
With a VoIP system, building an efficient call center with a limited budget is no longer a dream. Let's take a look at how VoIP can make the process a little easier.
Low Upfront Costs and Easy Management
A hosted VoIP system has low upfront costs, with minimal hardware requirements. What's even better is that customers with limited IT knowledge can easily deploy the system and manage it from a Cloud system.
Low Monthly Phone Rates
A VoIP system generates calls via Internet connection; therefore, there's no long distance call rate. On average, our VoIP specialists are able to save our customers 30% off their monthly phone bills.
Virtual Call Center
VoIP has broken the geographical constraints, allowing operators to work in any location with an Internet connection which is known as a virtual call center.
In other words, you are able to reduce the required office space and hire operators in different geographical locations to support a 24/7 call center.
Advanced Features and Functionality
A hosted VoIP system is a Unified Communication system that offers many useful features to make your call center function efficiently including:
Future Proof
If you still have doubts about building a VoIP call center, try starting with few lines first to test it out. VoIP is highly scalable. With no contract needed, you can easily scale up or down anytime when you are ready. Check out 7 reasons to move to switch to VoIP Service.
What do you think about a VoIP call center? Are you considering building an in-house call center? Share your thoughts with us in the comment box below!