Second Straight Fast Track Award for VoIP Supply in 2014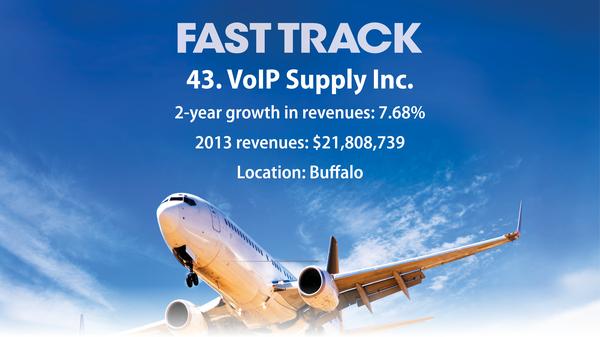 We're proud to announce that we were just named one of Western New York's (WNY) fastest growing companies in 2014.
VoIP Supply received the Fast Track Award which honors privately held businesses in WNY that have strong sales growth.
This is the second straight year and fourth time in the company's 12 year history that we've earned this distinction.
Fast Track Award for Strong Revenue Growth
Buffalo Business First newspaper held their annual Fast Track Companies award reception on June 25, 2014 where the were revealed.
VoIP Supply, with 7.68% sales revenue growth from 2011 to 2013, ranked 43rd out of 48 long-established companies.
VoIP Supply's CEO, Ben Sayers, is proud that his company made the list again as a Certified B Corporation that is currently involved in a yearlong volunteer campaign, VoIP Supply's "Year of Giving," to give back to the community and help a different charity every month.
VoIP Supply is a sustainable business with the mission to "Do well so that we can do good for others," says Sayers.
With a focus on conscious capitalism, Sayers says that, "It is our hope that our actions will be an example to other businesses in the area, showing that a company can continue to grow even while putting people ahead of profits."