VoIP Supply Wins Digium's Top Partners Award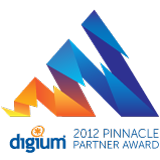 VoIP Supply has been named a winner of Digium's Pinnacle Partner Awards for 2012!
This annual award is given out by Digium to recognize their partners "who go above and beyond when it comes to delivering VoIP solutions and services and it shows through their commitment to customer satisfaction," notes Julie Webb, Marketing Communications Director at Digium.
VoIP Supply is proud to accept Digium's recognition as a 2012 Partner of the Year for Direct Marketing.
Given to only 18 organizations around the globe, VoIP Supply's Pinnacle Partner Award highlights our strong commitment to providing great customer service for Switchvox Unified Communications and Asterisk Custom Communications solutions.
"We're honored to receive this award which recognizes our strong belief in, and our ongoing commitment to, offering the very best customer experience and education for Digium VoIP solutions" said Benjamin P. Sayers, President and CEO of VoIP Supply.
By partnering with Digium, VoIP Supply can offer customers great value for their business phone systems.