Labs: Setting Up the Polycom VVX 1500 with Switchvox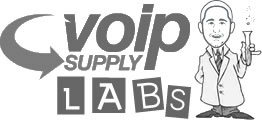 Earlier this week we unboxed the new Polycom VVX 1500 Video Phone and promised to share some details of our experience in integrating the VVX 1500 with Switchvox SMB 4.0, the IP PBX that we currently run in production at VoIPSupply.com.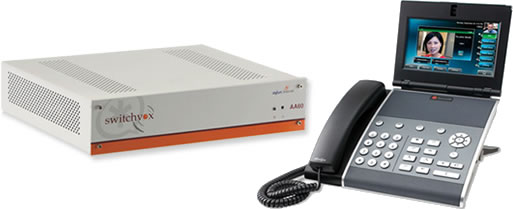 Getting the voice side of things up and running was easy, but we quickly ran into a few issues while trying to make video calls. The Polycom VVX 1500 is currently not supported on the Switchvox platform by Digium/Switchvox or Polycom. There are known issues with the VVX 1500 on Switchvox and both Digium/Switchvox and Polycom are working toward being able to fully support the product.
Being impatient types, we rolled up our sleeves to see if we could come up with a workaround. Shame to have the VVX sitting on my desk and not being able to utilize video calling. Big thanks to our head product engineer and VoIPSupply Labs mad-scientist-in-residence Chris Heinrich for coming up with the following solution.
Disclaimer – Please note that the following method IS NOT supported by Digium/Switchvox or Polycom. If you have a Polycom VVX 1500 and are attempting to get it up and running on the Switchvox platform and run into problems, call us and we'll be happy to help. The setup we are using bypasses Switchvox and sets up a point to point voice and video session between two Polycom VVX 1500 phones on the LAN.
Without futher ado, here's the setup that was successful in our internal testing.
Step 1:
First, take two Polycom VVX-1500's and make a note of their MAC Address / Serial Numbers. In our case:
0004f2be84f8 (Allocated to Ben)
0004f2be8535 (Allocated to Cory)
Step 2:
Next, statically set the IP address on both units as this will be needed later on, you'll see. This is important!!!
-Ben's phone is 192.168.7.8 and set to extension 3400
-Cory's phone is 192.168.7.10 and set to extension 3402
-Our Switchvox SMB server's IP Address is 192.168.7.77
Step 3:
Next, take a copy of the latest Polycom firmware files, SIP version 3.1.2RevB and Bootrom 4.1.2RevB and store the files on a TFTP server on the network. We then made the following changes to the files (All the files we used are attached at the bottom of this post, To view the contents, just open in notepad or notepad editor program)
sip.cfg – DO NOTHING – This is key!!!, leave this configuration as it is or untouched, if you make any changes as far as server information goes, the P2P Video will not work!!!
0004f2be84f8-phone.cfg – YES, IT NEEDS TO BE NAMED WITH THIS CONVENTION, -phone.cfg . This file is the Phone1.cfg (default) which was changed to reflect the Switchvox server information and extension number, and then renamed. The same was done for Cory's phone. (Both Files attached)
0004f2be84f8.cfg – redirects the VVX 1500's to the following cfg files; sip.cfg and 0004f2be84f8-phone.cfg. The same was done for Cory's phone. (Both files are attached)
0004f2be84f8-directory.xml – MUST BE NAMED WITH THIS CONVENTION, -directory.xml. In this file I setup a speed dial to Cory. The trick here though is to set the speed dial as a URL dial instead of just an extension. So for Ben's phone, the speed dial looks like this, [email protected], where 3402 is Cory's extension and 192.168.7.10 is the static IP address of Cory's VVX1500. The same was done for Cory's phone but vice versa. (Files also attached)
OK, All the configuration file changes are done.
Step 4:
Simply point the phones to your provisioning server…in our case Chris used a TFTP server. To do this, simply unplug the VVX 1500's, and when they begin to boot, press the SETUP button on the "countdown to autoboot screen", Enter the Admin default password; 456, then scroll to the server menu. Edit server type to Trivial FTP, and then the Address . Save all changes and allow the phone to reboot.
During this process, the phones will pull all of their configuration files created above. Upon completion, you will see the following: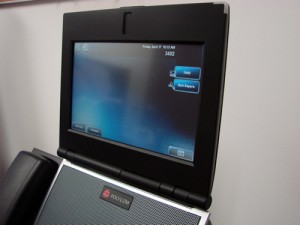 Notice the speed dial for Line 2, when pressed, the VVX will speed dial the respective party via URL dialing and setup the P2P connection. When the remote VVX party answers, the 2 way video connection is established and presented.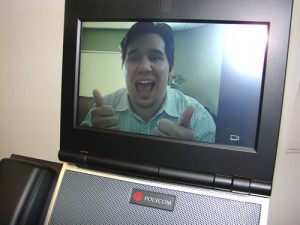 And there you have it, our workaround for voice and video P2P calling with the Polycom VVX 1500 and Switchvox SMB 4.0. At some point in the future, we are hopeful that there will be full integration of the Polycom VVX 1500 with the Switchvox SMB platform. Imagine being able to establish single and multi-party video calls on the fly through the Switchvox Switchboard. How about one touch recording and archiving of voice/video calls. For that matter, what about porting the Switchvox Switchboard onto the touchscreen interface of the Polycom VVX 1500? One can dream.