Product was successfully added to your shopping cart.
Product was successfully added to your shopping cart.
About Cisco Meraki Switches
Cisco Meraki MS Series Switches give you Cloud-based management, plug and play deployment, and a reliable platform.
The Meraki MS cloud management means that you can easily configure and monitor ports over the web without specialized IT knowledge, making it the perfect solution for remote provisioning of a branch office, campus, or other off-site location.
Step up to a Cisco Meraki Switch solution and enjoy the industry's first Cloud-based switch that features virtual stacking to manage thousands of ports with no physical connection, Layer 7 and device fingerprinting analysis, scalability and failover, and guaranteed network performance with QoS for voice and video.
Why buy Cisco Meraki Switches
Cloud-based management to monitor and configure ports over the web.
Virtual stacking allows remote provisioning of thousands of ports regardless of their interconnectivity.
Layer 7 visibility and device fingerprinting allows you see who and what is using up your network's resources.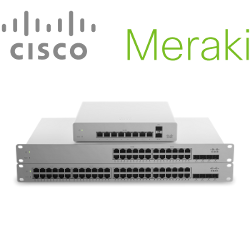 SKU: 02-117809

The Cisco Meraki MA-SFP-10GB-SR 10 GbE SFP+ Short Range Fiber Transceiver can reach a distance of up to 1320 ft and is compatible with many other Cisco Meraki devices.

SKU: 02-125012

The Cisco Meraki MS225-24P Ethernet Switch is Cloud managed enterprise-grade switch that is plug-and-play. This layer 3 switch has 24 network ports and can be rack-mounted or placed on a desktop.

SKU: 02-128920

The Cisco Meraki MS250 is a 24 port POE switch that offers reliable switching for small deployments.