Product was successfully added to your shopping cart.
Product was successfully added to your shopping cart.
About Cyberdata IP Notification
These IP devices are SIP visual alerting devices, notifying you the incoming calls within an IP paging environment. This solution is ideal to be used in various places, from classrooms, banks, to warehouses, and offices.
With CyberData IP Strobes, you can enjoy wide range of features such as PoE, web-based setup, 2 flashes per second, event-controlled relay, and more.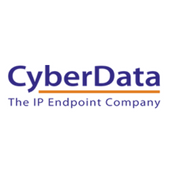 SKU: 02-109496

The Cyberdata 011049 SIP-based call button is meant to be mounted under a desk or in a discrete location so if an event should take place, the user depresses the button to silently call for help.

SKU: 02-123456

The CyberData wall-mounted SIP RGB (Multi-Color) Strobe operates as a visual alerting device. The device can be set up as part of a ring group (call group) with the Strobe engaged as notification of incoming calls.

SKU: 02-123757

The easy-to-read 4 digit CyberData PoE Digital Clock 011313 connects to your PoE network and gets the device's precision time updated from an NTP (Network Time Protocol) server.