Product was successfully added to your shopping cart.
Product was successfully added to your shopping cart.
PBXact Software and Licenses
Sangoma's PBXact is available not only in the hardware format but also software. With these options, you can get all of the quality and features you have come to expect with PBXact but with software only. This also includes the addition of any licenses you may need to add to ensure that your business has exactly what you need. Yet another example of the flexibility that comes with Sangoma's PBXact.
This includes Sangomas SaaS licensing, that allows you to use Sangoma's PBXact software as a service.This is a customizable software solution that allows you to provide your own customers with telephony service. This provides an affordable, pay-as-you-grow virtual PBX solution for your brand. Whether your company is an experienced premised-based PBX reseller looking to expand your offering to the cloud, or an incumbent service provider looking for an alternate hosted solution, PBXact SaaS offers a proven, robust, cost-effective solution. You sell the service, manage your datacenter and customer installations, and collect the revenue.
PBXact SaaS offers advanced features that are available on your customers' handsets, desktops, and mobile devices. Features include:
Automatic Handset Provisioning
Auto Attendant
Voicemail to Email
Conference Rooms
Call Queues
Call Parking
Call Recording
Ring Groups
Paging
Fax
CRM Integration
Mobile Integration (Android or iOS)
Softphone
Call Center Option Also Available
This is only for authorized partners and allows them to provide world-calls telephony services to their own customers. If this sounds like you fit the building call now to be signed up for our Partner Portal today.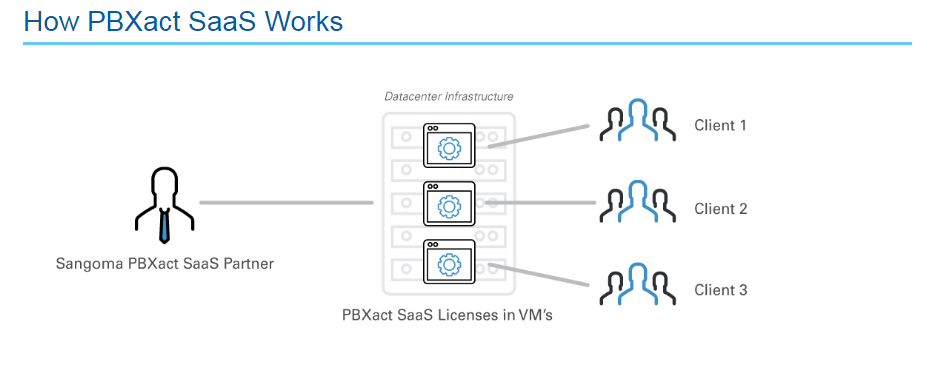 SKU: 02-123802

PBXact Software Only with 50 User License Customer provided server to install PBXact software and license on. This item includes the core PBXact UC software and 50 user licenses. You will need to purchase User Licenses for each extension you want to create on the system above the 50 included licenses.

SKU: 02-124690

Designed to get your new PBX up and running and configured so you can start placing calls. Includes 6 hours of Support Credits for setup and configuration . The included Support Credits are added to the Company/Organization that owns the Deployment in the Sangoma Portal not the Company/Organization that is making the purchase if they are different.

SKU: 02-124688

Add support for connecting 3rd party Phones for PBXact Customer Provided Server systems.

SKU: 02-124416

Take your contact center to the next level with the Call Center Add On for PBXact SaaS system. Per month fee

SKU: 02-124415

Add support for connecting 3rd party Phones for PBXact SaaS system per month fee.

SKU: 02-123803

PBXact UC User/Phone License 1 Pack.

SKU: 02-124557

1 Time fee to convert a FreePBX 300 Appliance to PBXact 300

SKU: 02-124653

PBXact Additional 50 User License for PBXact Software only installs

SKU: 02-124668

Sangoma PBXact Additional 100 User License for PBXact Software only installs. PBXact User/Phone License 100 User Pack.