Product was successfully added to your shopping cart.
Product was successfully added to your shopping cart.
About Sangoma Vega 400 Gateways
The Sangoma Vega 400 Gateway is an E1/T1 digital gateway for service provider and enterprise applications to connect your digital telephony devices to IP networks. The Vega 400 comes pre-licensed for concurrent calls through 120 VoIP channels and can be easily provisioned in the field for future expansion with additional licenses and expansion modules.
With the Vega 400 each E1/T1 can be independently configured for either network or terminal side allowing simultaneous connections to both a PBX and the PSTN allowing for no disruption to your existing equipment's configuration and greater flexibility and choice for call routing.
For resiliency, the Sangoma Vega 400 also has four RJ45 sockets for failover protection during outages. Dual redundancy can be achieved with a backup Vega 400. With optional ENP (Enhanced Network Proxy), the Vega 400 gateway enables continuity of service during WAN/SIP outage with operating configurations that include standalone proxy, IP device survivability, IP device call routing, emergency call routing, and SIP to SIP call routing.
Why buy Sangoma Vega 400 Gateways?
Up to 120 VoIP channels, 4 ports for E1/T1 resilience, and interoperability with a wide range of legacy and IP devices.
Voice, T.38 fax and modem Support, SIP and H.323 support.
Flexible Call Routing for Fallback and Least Cost Routing, and Emergency PSTN Backup.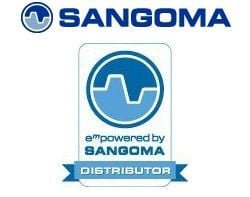 SKU: 02-112841

The Sangoma Vega VS0082 1x3 DSP Card is the modular add-in card that allows you to use the 4th built in T1/E1 port on the Vega 400 Gateway. Gateways that are sold with 120 channels already have this card built in.