Product was successfully added to your shopping cart.
Product was successfully added to your shopping cart.
Yealink MVC840-C2-211 Native Microsoft Teams Rooms System
The Yealink MVC840 Teams Room System has high-end technology such as 12x optical zoom and a 4K sensor in the UVC84 camera, allowing for a superb video experience. The Auto framing technology in the UVC84 helps frame everyone in the room in the best view possible for the room size.
For your audio needs, the Yealink VCM34 and Yealink Soundbar have you covered! The VCM34 has a 360° voice pickup range and Yealink's Noise Proof technology that ensures all of your meetings enjoy crystal-clear voice without background distractions.
The MCore mini-PC has an 8th-gen Intel Quad-Core i5 processor and 8GB of memory as well as an integrated cable management system that integrates data and power supply into one CTA5e cable. The MCore mini-PC can be mounted to the wall or mounted to the bottom of a table.
The Yealink MVC840-C2-211 makes it easy to share content and collaborate with colleagues. Users can choose whether they want to collaborate via wired connection or wirelessly.
What is included in the MVC840-C2-211?
• 1x UVC84 12X optical USB PTZ 4K camera, VCR20 remote control, power adapter, wall mount bracket, and cables;
• Yealink MCore Kit (with MCore mini-PC and MTouch II), power adapter, cables, and wall bracket;
• 1x WPP20 for wireless content sharing;
• 2x VCM34 array microphone;
• 1x Yealink MSpeaker II, power adapter and cables;
• 1x PoE Switch for audio connection, power adapter, and cables;
• The mini-PC computer preloads Windows 10 IoT Enterprise OS and license, Microsoft Teams Rooms App, as well as Yealink Camera Control Plug-in;
• Including 2-year hardware warranty.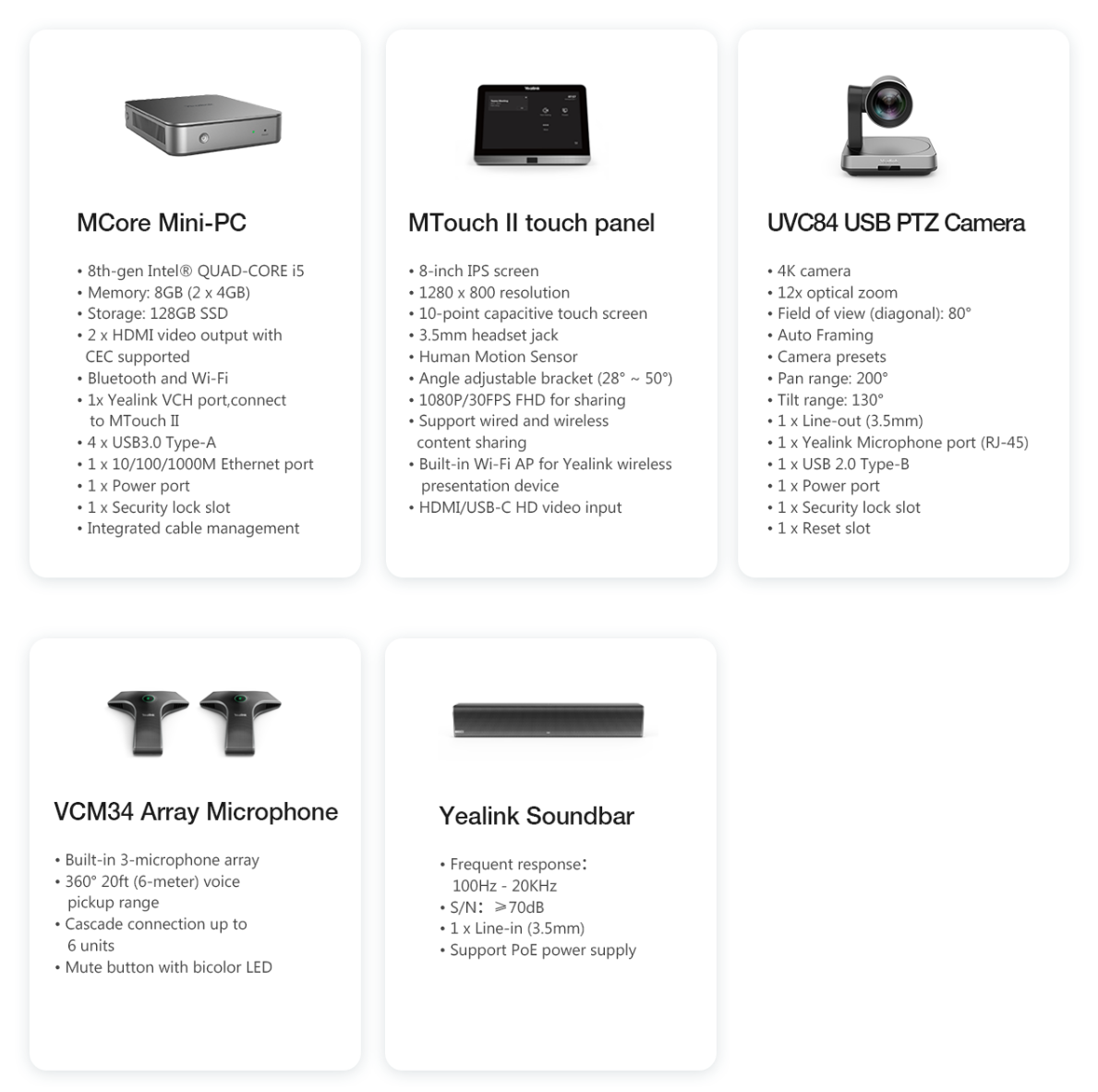 Helpful links: