Product was successfully added to your shopping cart.
Product was successfully added to your shopping cart.
Advanced Network Devices - Syn-Apps
Advanced Network Devices (AND) provides Power over Ethernet (PoE) IP devices for mass notification systems. AND caters to industries such as education, healthcare, retail, hospitality and service, government, and corporate applications. AND's heavy emphasis on engineering provides a full IP paging solution with advanced displays, field upgradeable capabilities, and embedded SIP phone options.
All certified AND devices come pre-loaded with Syn-Apps' royalty-free API; providing seamless plug-and-play integration to Syn-Apps' next generation notification platform, Revolution, or Syn-Apps' legacy software, SA-Announce.
Why buy Advanced Network Devices?
Easy to install: No certification required, connect with a standard network cable
Easy to integrate: Capability for HTTP callbacks and SNMP traps, configure with your mass notification software
Easy to notify: Customizable features, flexible to reach individual devices or groups needed, lockdown a facility and notify emergency personnel with a push of a button
Easy to scale: Field-upgradeable for continual development, expand to a room, building, campus, school district, and more
Easy to choose: Reduced costs for leveraging existing networks, increase reliability when backing up network switch centrally
>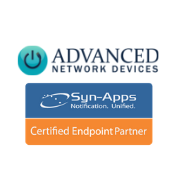 SKU: 02-116865

The Advanced Network Devices ZONEC2 Zone Controller can connect existing analog amplifiers to your data network, creating a hybrid system so both phones and speakers can receive the broadcast.

SKU: 02-126823

The ZONE-LO Zone Line Out Controllers connects to your existing amplifier to make your analog speakers IP-enabled.