Product was successfully added to your shopping cart.
Product was successfully added to your shopping cart.
Algo Solutions - Syn-Apps
Algo Solutions was the first to join the Syn-Apps Certified Endpoint Program. Algo offers a range of IP paging and mass notification devices such as SIP and analog notification, voice paging, and intercom solutions that are specifically designed to integrate with legacy phone systems, premised-based Unified Communications (UC) services, and hosted VoIP services. With Syn-Apps, the wideband IP paging speakers and LED IP strobe lights can also be deployed for mass notification applications with exceptional voice clarity and conspicuity.
All certified Algo devices come pre-loaded with Syn-Apps' royalty-free API; providing seamless plug-and-play integration to Syn-Apps' next generation notification platform, Revolution, or Syn-Apps' legacy software, SA-Announce.
Why buy Algo?
All Algo IP products are 3rd party SIP compliant
Products support for central provisioning, network supervision, and multicast
All Algo IP endpoints provide solutions for voice paging and PA systems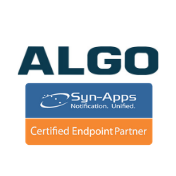 All Algo IP Endpoints are fully TAA Compliant!