Product was successfully added to your shopping cart.
Product was successfully added to your shopping cart.
IP Phones Optimized For Skype
Amplify your Skype calling experience with a Skype Phone from VoIP Supply.
Choose from over a dozen different Skype VoIP Phones that range from a simple USB phone to a desktop Skype phone. All of the Skype Phones below are certified by Skype or have been tested as compatible with Skype by VoIP Supply. Take your Skype calling experience to the next level - get a Skype Phone today!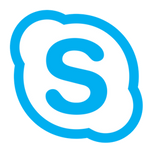 SKU: 02-111182

Skype calls are no longer limited to small tables. The CHATAttach 160 facilitates Skype calls for medium and large conference rooms.

SKU: 02-117340

The Grandstream GXV3240 is a 6-line multimedia Gigabit VoIP Video phone that's perfect for 3-way video conferencing with a tiltable CMOS camera and HD audio/voice. The GXV3240 has integrated wi-fi, built-in web browser, and HDMI connectivity making this video phone the perfect solution for high-tech campuses and companies.

SKU: 02-107734

The Konftel 300 is advanced analog conference phone which will cover an area of up to 323 feet (or 10 people) and offers high tech features such as local call recording and connection to an existing PA system.