The Grandstream GXP1760W Awarded Best VoIP Device by ITSPA
Grandstream, a leading manufacturer of IP voice and video communications equipment, announced that their GXP1760W Mid-Range WiFi Phone has been selected as the Best VoIP Device at the 2018 ITSPA Awards!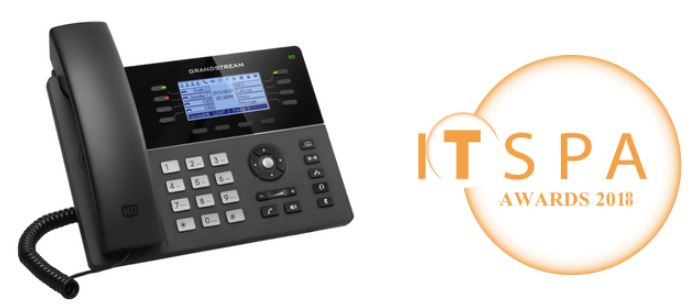 About The GXP1760W
Grandstream's GXP1760W WiFi Mid-Range IP Phone supports 6 lines and 3 SIP accounts. This model offers the same sleek design you've come to know and love but now features integrated dual-band WiFI for integration with wireless networks. Learn how to connect the GXP1760W to your WiFi network here.
Popular Features:
6 lines, 6 dual-color line keys (with 3 SIP accounts), 4 XML programmable context-sensitive soft keys

5-way audio conferencing for easy conference calls

24 digitally programmable & customizable BLF/fast-dial keys

Built-in USB port for importing and exporting data only

HD wideband audio, full-duplex hands-free speakerphone

Built-in PoE
Grandstream has been one of our top reliable and popular brands at VoIP Supply. We are excited to hear this great news! Look forward to seeing more customers enjoying their communication experiences!